SKY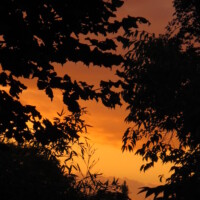 GARDEN SKY 
  My friend Jane, de-cluttering her garden, has given me a rocking lounger.  I lie and look at the sky.  English sky is more subtle than the unvarying  blue  of Mediterranean sky.  It changes, it moves, it's moody, it's quicksilver.  
 In the grey clouds I see pink, mauve, yellow and green.  Sometimes the sky sulks, it's just rolls of steel scouring wool.  Sometimes it's a clean mottled blue. Marble. 
Those clouds move with such purpose.  They know where they are going, what they are going to do.  I can see mythological creatures up there, the centaurs, gods and goddesses, Pegasus, dwarves, creatures shapeless, bulbous.  People must have been doing this for 1000s of years.  Satyrs chase fleeing nymphs.  This morning when I drew the curtains there were shoals of luminous pink fish.  They swam off.  We see what we want.  I think, no wonder the constellations were created and the stars put together!  
A brilliant sunset flares through a gap in the trees.   In high summer the drama shifts to the north, in winter it retreats in the south.  Briefly the entire western sky is rose gold.  Or scattered with clouds like burning coals.    I rush for my camera, but it's gone.  In winter branches are etched on copper.
Just one day of the year the sky enacts the beginning and end of the cosmos, the glory of life, birth and death.  On November 5th.  Big bangs, then up shoot glorious  shapes, they soar, they dance, they fall and disappear.  Then the  next corps de ballet appears.  They stitch the sky in circles and spirals, of white, blue, green, yellow, orange, purple and red.  They rise up to flower and open, and descend to blackness.  They have their glorious seconds of glory.  From the playing fields where the school party is, I hear, Hip hip hooray … 
My friend Jonquil, now crippled, had to choose between her garden accessed through a rather damp and gloomy basement, or her bedroom and sitting room, tiny, reached via steep and twisting stairs.  She chose upstairs, so she could watch the sky.