WINTER LEAVES
It's winter, depths of.  Freezing.  I look at tree trunks, and lichen like verdigris, and the leaves that remain.  So subtle, unlike the baby froth of spring, the punch of summer or fire of autumn.  It's like being able to see stars in daytime.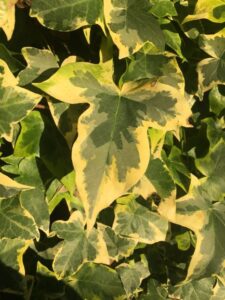 There's variegated ivy spread eagled on a wall, giving all year shelter and nesting to the birds.   Never thought it would grow like this when I bought it in a little pot to stabilise a nearby bank.   Each leaf is an island map with pale, dark  and gold contours.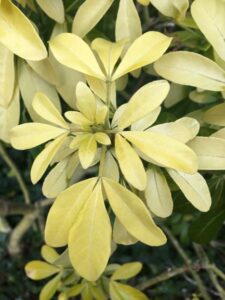 Mid summer I hacked down the giant fennel which had grown so huge and coarse it toppled under its own weight.  I thought I'd killed it.  Yet by autumn up had sprung bubbling froth, and now it's a mass of fine green fur.
Golden choisya – Choisya ternata Sundance to be exact.  Every day of the year it's a bush covered with gold flowers, except they're not flowers, they're leaves.  Bright and happy.  I have another in a shady spot, and it grows ok, but the leaves are more green than gold.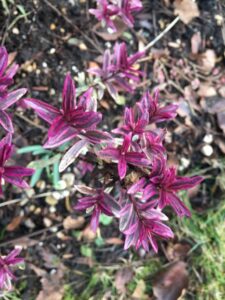 Hebe Burning Heart.  An impulse buy two years ago, and not a burning colour but violet leaves all year.
Euonymus fortunei Silver Queen.  Bought as a low shrub, it climbed right to the bedroom window.  (Sellers and growers often have little garden experience of their plants).  Providing insulation to the house.  Small green and white leaves with a pinky tinge.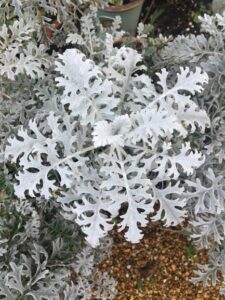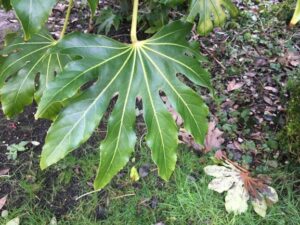 Senecio Dusty Miller, sprouting filigree silver.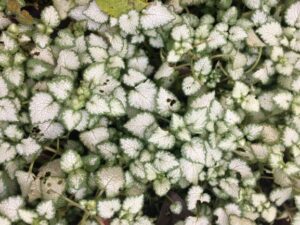 And then, Lamium White Nancy, bought in the weekly marked, white leaves outlined in green, small, spreading, a patch of light in a dark corner.
Fatsia japonica with thick witch fingers and pointy painted nails.  It's a glossy green vamp.
Cyclamen.  I grow cyclamen hedifolium for its pink autumn flowers, but elves have etched and painted curlicues and signs on the leaves, sending messages.  What do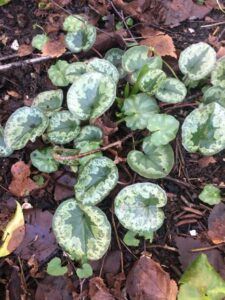 they say?  And over here is a dark angel spreading flying from the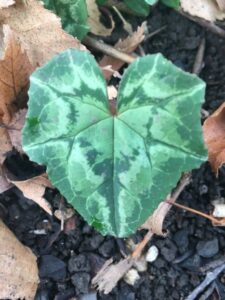 lighter green.
A speaking garden.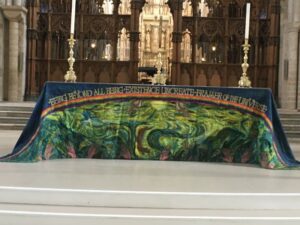 In Winchester cathedral a rarity, an altar cloth  sprouting greenery, with a twisting otter at its centre .   Celebrating nature.