The Spirits
April 1st.  The trees boom in the wind –something is happening up there.
I was reading The Lord's Army, about the army of children in Uganda who murder, burn and steal as best they can.  They are organised  by a man named Kony, who believes he is God.  Spirits are everywhere – and Kony is possessed by a murderous spirit.  But, though the book is about this evil in a corner of Uganda, I keep glimpsing beyond in the rest of Uganda and in Africa a glorious animism .  Everything is alive with spirits, and the churches are full, and a woman jumps up and laughs, such is her joy in the Lord.  The bus to Kampala runs over a huge snake which slithers off into the jungle, presumably to die, and the driver stops and the passengers get out because it was a dreadful thing to do, to kill a snake.  Animals, and rivers, are sacred and must be cared for, and then they will care for us.
In my garden I feel the spirits and they change.  The birds and insects, the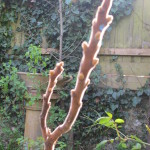 trees and tulips, reach out shoots and buds, imploring them them for warmth and one day they come, wearing misty gauze which evaporates into a benign glow which stays for several days.
 They've arrived!
This is what animism is, being aware of the spirits, feeling them and even seeing them, letting them enter oneself.  Anyone can cultivate this awareness, it just needs a stillness within and a reach beyond.