Plant of the week – July 
This is my red leaved banana, green leaves with red stems and herring bone veins, glossy, impossibly imposing, its central shoot scrolled into a beetroot spike before loosening into a funnel then relaxing into leaves beneath another shoot. Everyone says how splendid, and then, when's it going to flower?  Which it won't, it'll be dead long before it has a chance to consider this.  It's enough that now, every day, it is here, revealing a fresh leaf and spike every few days.  The sun shines through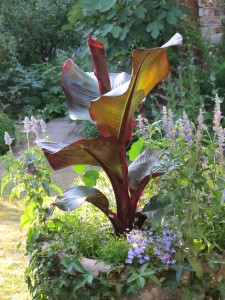 in late afternoon, making it psychedelic, a creature half plant half animal.  It guards me while I dream.   
Four of these red leaved bananas stand to attention in pots beside the patio steps.  They call to us, to pay attention and listen.  They grow taller and taller, grander by the day.  The name is Musa ensete maurellii.
15th February 2021 Miniature garden designer My first garden was created decades ago.  Must have been aged about five. When Ma took me out on a walk, I gathered twigs and mosses, and on returning home I arranged them on a plate to become a doll's house garden.  Ma lent me a little mirror from her handbag.  My garden was Japanese in feel, with bridges, shrubs, a tree here and there and a central glittering pond.  Green was its only colour. I was thinking about it.  And so the other day, in this damp cold time of Covid restrictions, ...
> MORE