Plant of the week – July 
This is my red leaved banana, green leaves with red stems and herring bone veins, glossy, impossibly imposing, its central shoot scrolled into a beetroot spike before loosening into a funnel then relaxing into leaves beneath another shoot. Everyone says how splendid, and then, when's it going to flower?  Which it won't, it'll be dead long before it has a chance to consider this.  It's enough that now, every day, it is here, revealing a fresh leaf and spike every few days.  The sun shines through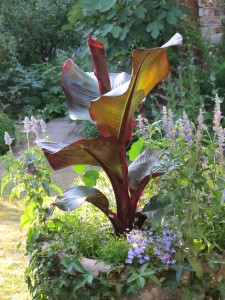 in late afternoon, making it psychedelic, a creature half plant half animal.  It guards me while I dream.   
Four of these red leaved bananas stand to attention in pots beside the patio steps.  They call to us, to pay attention and listen.  They grow taller and taller, grander by the day.  The name is Musa ensete maurellii.
Sacred sanctuary, place for scientific study, haven for solitude and thought, or just a space for sociable delights?  Children's playground, sculpture park?   For me it's all of these but essentially a private place where I grow plants and sow seeds, I weed and exult over a plant I'd thought lost, I interact with nature – I'm forgetfully at one with it.  I put my arms round the birch, my lady of the woods.  Like plants and trees stretching out new shoots, I stretch out my fingers to the sun.  In the old days I used to dance...
> MORE