EGYPT 2022, LUXOR AGAIN
Two long Covid years, not going anyway except to Landmark buildings with the family – great but there's rain, shopping, washing up and cooking – we take it in turn.  These days I am slow, and Bob's walking is poor.  He says mournfully, I'll never go to Egypt again … But, Margot and I look up flights, and there are cheap EasyJet flights to Hurghada on the Red Sea.  We are booked!  Geordie buys me three prints from the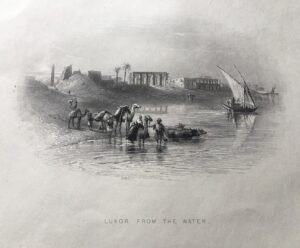 bookshop, torn from old books, of Luxor from the water, Valley of the Kings and Plain of Thebes.
The Covid paperwork is fearful, but Margot is enthusiastic and orders Covid vaccination certificates, and I manage the compulsory insurance which costs well over £300 with Bob being 90, print out various necessities and order airport assistance.  But I am fearful!  Anne Ormerod was turned back at Heathrow because one paper was not in order.  Each day I go through the long list of regulations – which will trip us up?  I book us into the Mercure at Hurghada and the Winter Palace Pavilion a few days later.
Through the chicane of Gatwick in the black early morning.  Few travellers.  Assistance and onto our plane, which has seats to spare.  The plane speeds up and that moment when I feel, will it lift off, it rises groaning like a clumsy bird, and we fly.  Have to wear masks for the entire flight, except when sipping a drink, and draconian air hostess marches up and down the aisle checking and bossing.
Hurghada, and amazingly there is a man with placard Sarah Coles, and a car.  Check in at Mercure and shown to our room – it has a wet room and is roomy.  We sit on the beds and look at each other.  We have made it.  It all sounds so easy and simple and ordinary, but it's not in these Covid times when people and authorities are terrified of getting ill and invent new rules every day.
Wake early and lift curtain as the sun rises creating a golden sea path direct to me.
Great salads.  Iced cakes in lurid colours.  Eat breakfast & lunch in an aisle where sparrows and grey headed crows wait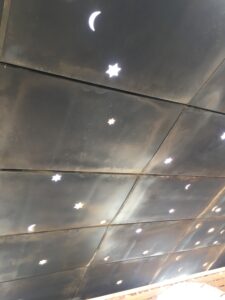 to alight on leftovers of used tables.  The roof  is pierced with blue stars, suns and moons.  Marble floor in sheets of ochre, black, red and green.  Few Europeans.
I ask travel desk about taxi to Luxor tomorrow.  £100 he says, just give me your passports so I can get permits.  But B rather pleased to find taxi man who says he'll take us for £70, so be ready at 9.30am he says.  We are.  Bob goes to get his man and then comes back, there's a problem.  No permit.  Bus?  Not allowed.  Covid?  So I go with our passports to my travel man (I told you, he says) and pay £100 for taxi & permit tomorrow.
To the Red Sea mountains which look like the spiky background to some mythic tale and when we wind through are crumbly, loose and reddish.  Rocky desert.   Stop for a coffee at a vast caravanerai where in the breeze djellebas and dresses swing eerily on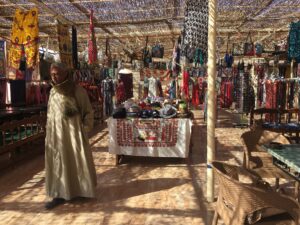 their hangers.  I look through some clothes on racks and am not left in peace until we leave.
Down to the Nile valley, to New Qena, vast blocks of flats, endless, unfinished with gaping windows.  Imagine being stuck in one, looking out on this desert, stones, rubble and plastic bags as far as you can see.  South along the Nile valley, carts and donkeys and cars and buses and gaily painted juggernauts, and road blocks jogging us every hundred yards.  Driver jerks in and out of the traffic and I clutch a handle.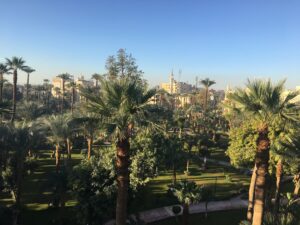 Luxor!  Through the Winter Palace gardens to the Pavilion and our room.   Can see tree tops and four minarets from our 5th floor room.   Breakfast outside in the garden, have to wrap up.  Others are plump Egyptians (women wear scarves wrapped in intricate fashion over hair, men talk business) and a few Europeans.
We walk the gardens in the dark to the  Winter Palace and enter a service door leading to an empty corridor with a worn runner passing rooms (windowless?) formerly used by lady's maids and valets (?) and now used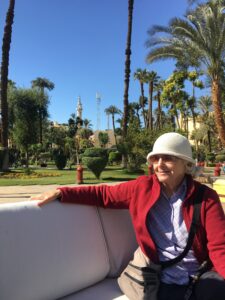 for storage and staff meetings.  Lift to main corridor – we pass the bar where a tinkly piano plays and shelves bear  classics in tiny print,  pass the vast lounge like a film set with faded carpet and drapes, pass the grand 'French' restaurant and enter the equally grand 'informal' restaurant for supper.  Service sluggish.  Hard to tell one waiter from another because they all wear masks, and have crinkly black hair receding at the temples.  The menu short and identical each day.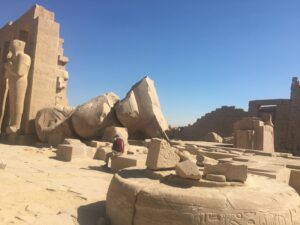 Bob wants to see the Ramasseum, Ramasses II's mortuary temple, with fallen Ozymandias (= Ramasses, Ozymandias being his Greek name).  Alas the ferry has been shifted to a mile or two downstream near Karnak, so we haggle for small boat for the west bank crossing.   Orange juice (ah!) at café,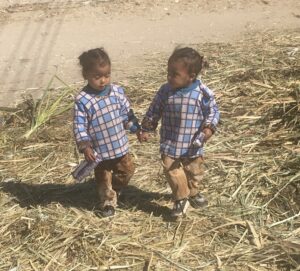 then B commandeers a bus, and bemused driver with passengers takes us to the ticket office a couple of miles inland.  We'll walk now B decides, and so we do, skirting the back of buildings and led by a boy and followed by a straggle of children, and finally enter via barbed wire.
Imposing as ever.  B sits gazing at the ginormous fallen broken Ramasses (can you see him?).  Temple roof with Ramasses' journey through the night sky as he makes his way to daylight  and heaven, and the king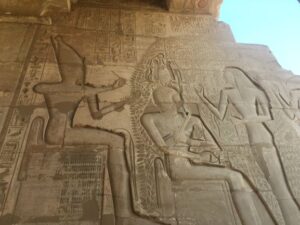 shown sitting under the evergreen persea, sacred tree of Heliopolis, on the leaves of which his name is written by Atum, watched by Seshat, goddess of writing, scholarship and records, with her husband ibis billed Thoth, god of ditto – so now Ramasses shall live and reign for eternity, which he may well do in some dusky place beyond.
At the Ramasseum restaurant, empty as ever, Shah Ali rings a number B has and Abdul arrives.  B is exhausted by the walk, and Abdul drives us south and over the 'new' bridge.  Appalled by new random building everywhere.
In the souk, they cry 'Welcome back'.  At Aboudi's where we have coffee, we overlook caleches and Luxor temple and the Nile, and the main waiter purports to know us and is hugely effusive which B finds fawning but if that's the way he is, well so it is and he's really nice.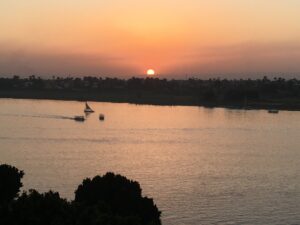 After a few nights, we move to the Iberotel, and have a room directly over the Nile, with the mountain beyond, like the river it changes colour from dawn to dusk and sometimes vanishes.  We are the only people at the little restaurant in the garden (Egyptian women prefer, I think, the privacy of room service), but it is jollier than the Winter Palace, and the waiters joke.  They are all called Mohammed or Ali or Abdullah.  My name is Sarah I say,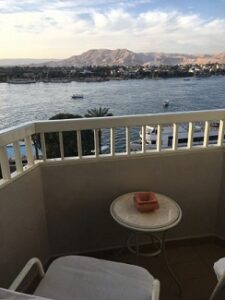 and they cry with delight, Sara!  That is Egyptian name!  So it is wherever I am, I am Madam Sara, or Princess, which is indeed the meaning of Sarah.
Only occasionally I reflect that I never speak to a woman, that there are police and security guards everywhere, and that we are not permitted to walk on the mountains.  Virginia CM emails and when I say we're in Egypt, she replies, I hope you're joining the protest demos.  Yes, from prison.  Later, Ann Jarman cannot understand my concern, she's been invited inside a Turkish home where everyone was perfectly happy.
Amazingly, Ann says she is joining us!  We never thought she'd have the nerve.  She says she has sold a mass of Mike's wine, so it is not that extravagant.   By now we have moved to the Jolie Ville, on the Kings Island, three or four miles south, to a roomy cabin, part of a hexagon, nearest to the dining room and swimming pool where two guards sit stopping children drowning.  Perfect, except midday their joyous screams are piercing.  Concerned mothers hover wearing hideous burkinis, wet suits with wet tunics over them.  I daren't take a photo.
From my bed I can see to palms across the river backed by the rosy mountain, sometimes there sometimes not.  It comes and goes like a spirit.  I look and look.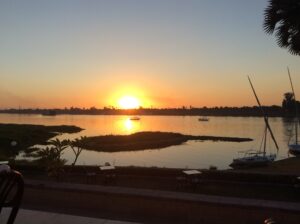 B is utterly happy.  Sun on his back.  Birds, herons, kingfishers, lapwings, the paddy bird.  The pied kingfishers hovers midair,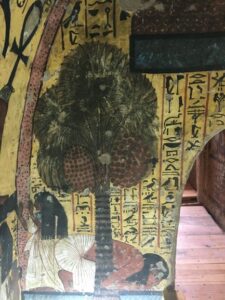 the white on his wings transparent.  The Nile.  Palms.  The doum palm, which is worshipped in the tombs.  Thanks for food.  Saying grace, we should do it every day.
I check out the room Ann is to have, next to ours.  I sit up in reception, and eventually when the place is silent except for odd taxis, Ann arrives.  Wonderful!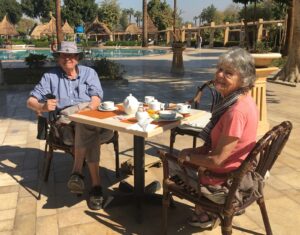 Her first day we go downtown by taxi, get cash, wander through the souk where she is inspired to buy a bag similar to mine, and later to buy spices to take home.  Coffee at Aboudi's, then I take her to go in the Abu Haggad mosque, perched above the temple (the floor level rose over the centuries with successive floods) and an intrinsic part of it – men pray to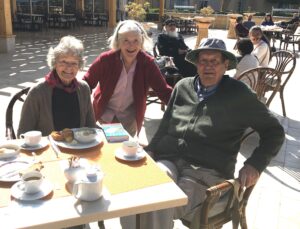 hieroglyphs and the arched mihrab is cut from a wall covered with incised hieroglyphs, and from the outer courtyard you look down on the figures of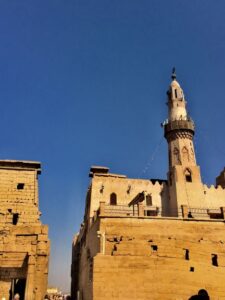 Ramasses II, and also an Coptic cross from the time there was a little church.  A sacred hub.   But!  We are now forbidden.  It's all part of the new Covid ruling that women cannot enter.   I seethe.  They'll make it for ever.
B loves Ann's company.  She has no sense of time, and every morning I call her when we are off for breakfast by the river and she arrives just in time before the place closes.  In the evening we sit in her room and she and I drink the gin she's bought, while B has wine.  What do you want to do, I ask.  Valley of the Kings she says.  I am not that keen, remembering it as a long boring series of black figures, but say of course.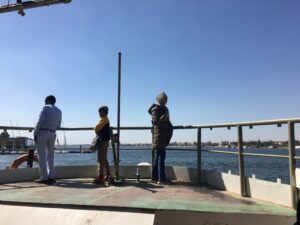 So we get a taxi to the ferry, and over, and have an orange juice and go to the money changer (actually a woman) who gets us a battered car from Sara's taxi service, at a most reasonable price for the day.  Past Carter's house and up that hallucinogenic dry winding valley and here we are among the charabancs.  All other tourists are Egyptian.  I am amazed, I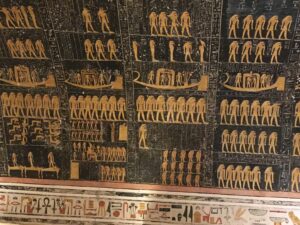 love it this time, because I now understand it, the travels of the deceased king through the underworld, helped by some creatures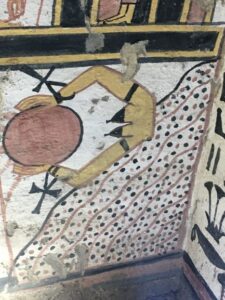 hindered by others, snakes & monsters, as he follows the sun on its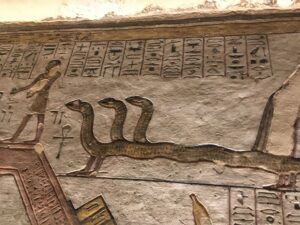 nightly demise, through the twelve hours, swallowed by Nut the sun travels through her intestine to be reborn at dawn.  Down down down.
Then we go for lunch at the Marsam hotel, it looks dull outside but we walk through the building into that green view of fields, camels, horses and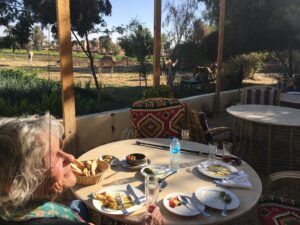 donkeys and beyond the trees we glimpse monuments where they are resurrecting stelae behind the Colossi of Memnon.  No wonder, after the inland tawny dryness, green is a sacred colour.  Above, sparrows twitter.  Love the people.  Lunch for one is too much for us.  Ann is entranced.  Taxi driver waits,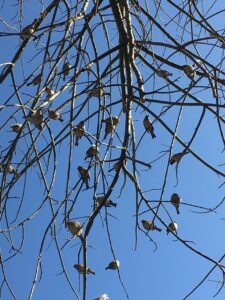 and no surcharge when we invariably stay longer than we say we will.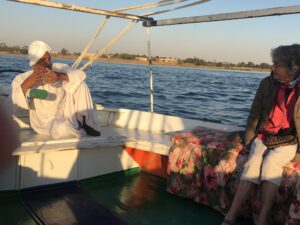 A felucca, says B, who cannot walk far, and so we get one steered by Ali.  B pays the owner who wanted us to get an expensive one with a motor and stalks off.  No sound except the water, and the faint blowing of the sail.  Ali talks, laughs.  Why is his English so fluent?  He learnt from tourists, he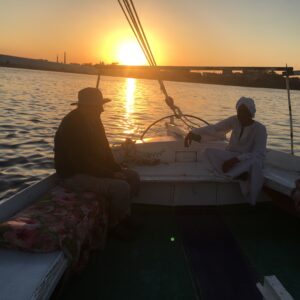 never went to school, he also speaks French, Spanish, Italian, ah amo Italiano!  He will sail us to Aswan!  He has three children, two daughters and a son, no more, Egyptian families are too big, and the cost of putting them through high school!  His are studying medicine.  Education is essential.  He points at a hatch at the prow, I have to sleep inside there!
We sail the length of Kings Island, from the Jolie Ville past its little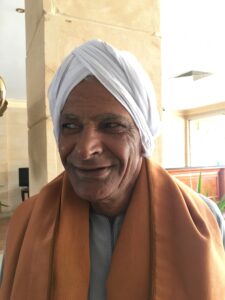 hexagons and  grand houses – one used by Mubarak says Ali.  He must have come with cook and staff.  Over there minarets, and the chimneys of obsolete water pumps built by the English, and a Nubian village, my mother was Nubian, no one is allowed to build within 250 yards of the water, which despite the Aswan dam still floods and rises over ten feet annually, and that little island haunted by birds will later be under the water.  He steers by hand, one foot tucked under, and we don't have to move when the sun sinks and we have to return – he effortlessly adjusts his tiller.  B tips him well.  The nicest Egyptian I have ever met, says B.  No fawning.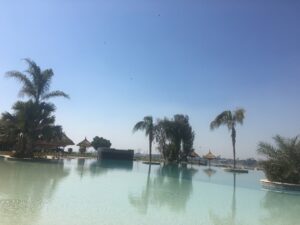 Infinity pool at the JV, I feel I can swim into the Nile!  Shockingly cold and bracing and I am back in the Irish Sea at Gwynfa.  In evenings brides with bell skirts and their grooms are photographed under the trees.  One evening Ann treats us to a moonlit feast beside the river – with very necessary heating too.
Ann and I get a taxi to Karnak, and pay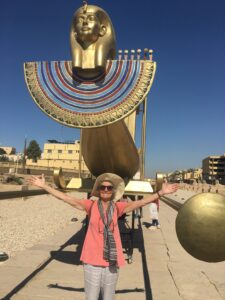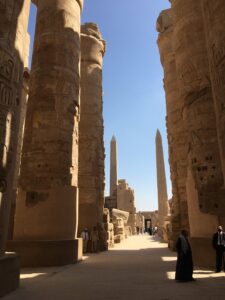 to go in the temple, grand as ever with the rams head avenue, packed with Egyptians (who have to pay a tenth what we do, I ask), then out, south, and to the sphinx avenue, which we walk as the ancient Egptians did at Opet when they celebrated the coming of the floods and renewing of the land.  They walked, carrying Amun's sacred barque to Luxor temple, dancing and waving sistrums, and as we walk we are with them, Amun, his wife Mut and son Khonsu.  (Think, next time I must visit the temple of cat headed Mut at Karnak.  Later I mournfully see dark stunning Mut statues sitting in British Museum).  Somehow, at Luxor one can move with ease between the centuries, and all is holy.  This avenue is newly opened, modern buildings have been demolished and the east end of the great Coptic church is shelved as the avenue proceeds partly under it.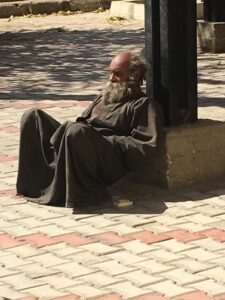 Ann wants to get spices for Hannah and Lucy and herself.  First I get some, including hibiscus flowers and doum powder from that sacred tree (tastes excellent cold) and saffron, how will it compare to English, haggle and pay.  Ann does not really approve of haggling, poor Egyptians, pay what they ask, though the man asks her for an awful lot.  Same going by caleche back to the Jolie Ville, I haggle and arrange the price and pay when we get to the turn off to the JV, but Ann stays behind to give the driver more and discuss the feeding of the horse, and check it has enough rest.  She is kind and I am mean.
The end!  Ann is up early and off to Luxor airport.  We get our taxi back to Hurghada and Hotel Mercure, and not nearly such a decent room and no view of the sea.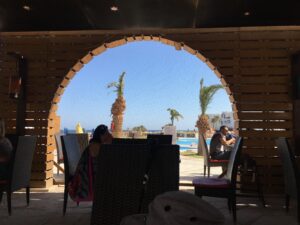 Lots of Ukrainians and Russians.  I talk to a woman.  So awful what's happening in Ukraine, I say to Ukrainian woman who's living in Kiev, I am sorry.  (This is a few days before Putin sends in troops to bring the Ukraine to heel).  Yes, she says, just dreadful – so awful for Putin – western Ukraine full of Bulgarians, Poles, Hungarians and Romanians, trouble makers the lot of them – and how would Biden like it if Canada and Mexico had Russian tanks on their borders pointing at the USA?  I think she has a point. 
To the airport, get B in wheelchair, and I imagined since we have triple vaccination papers and Boris has announced all is now freedom, we would be fine.  Wrong.  Officials treat all those departing the same, and we don't have passenger locator forms which some countries require.  We have no Arabic and their English is barely comprehensible.  Eventually all done on my mobile and we get through in time for plane.  A nuisance, but I wasn't deeply worried.  But the same had happened to Ann, who caught her plane with ten minutes to spare, and had massive nerves, terror and migraine, oh poor Ann.  No food on our flight, as they've run out.  EasyJet is SqueezyJet.  Still, we get to Gatwick, and Kevin waiting to take us to BTY.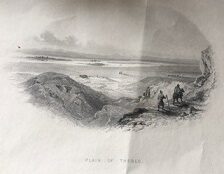 We'll go again, says B.  But we'll fork up and go direct by Egypt Air to Luxor.
Only as spring returns to Hampshire do we start to get over our Egyptian  homesickness.  But I still gaze at my pre-Aswan dam etching of the Plain of Thebes, with two solitary Colossi of Memnon, Luxor across a wide stretch of water, and Karnak it seems on an island, and the etching of the Valley of the Kings
.  Thank you Geordie.