Winter Iris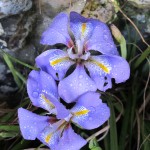 All those fancy bearded iris, heavens I've tried to grow them – in the sun, in shallowly planted with the rhizomes in their cradles on the soil, but!  Spent a fortune on Cayeux from France.  Useless.  On the farm the rhizomes developed holes as if mites had been in them.  RHS advice was irrelevant.  English/Dutch  iris slightly better, like a water colour painting, and up every year.  Iris sibirica, not much good.
But one is flowering now, in the depths of January – Iris unguicularis from Algeria, blue with patches of tiger skin stitched on, and nothing else around.  In the cold they bloom with abandon.  When picked in bed, pencil shaped, they open overnight.  Outside the petals can get slug ridden, like these ones here.
In summer most leaves look like chewed string, and I sit down and cut them off.  Apart from that, no problems!   I might try some fancy varieties – other shades – but at present I'm just thankful to see these from the sitting room window.