West Highland Way 2010
From central Glasgow, walking through Kelvingrove Park up river to Milngavie, I stayed at a seedy but ok b & b in Renfew St – Paki owner and Polish girls, he v. nice & efficient but oh, these people of the east and south do not smile as much as they do in their own lands.  Leave bag for carrier to take to Milngavie for tonight. 
The euphoria of walking in early morning sunshine through Glasgow, the trees, the great Stewart fountain, the sweetness of people who always greet, young women, old women, quicker greetings from men, long directions from old man with beery breath – now, my dear – I walk beside river & great bridges soar above, one with marble pilasters, all so proud & splendid and I think, what is modern architecture, the ordinary stuff of bridges today, compared to these 18th and 19th century crafted civic enterprises? 
At Maryhill glimpse the first hills to the north, the green, the dun, the ochre, a touch of pink, the light moving, the colour and light all so soft, soft as tweed colours, & greys, & blue sky, and the clouds move, and this is what I've come for.  The connectness of walking.  St Augustine, solvitur ambulare I think. 
Soup & cider at Tickled Trout, loads of tourists out for the day.   Blackberries & balsam by river. 
13th 
Milngavie is the official start of the west highland way, through rather derelict car park.  Cloudy.  Morag at breakfast gave the usual greasy fry up and every table had its relevant flag, German, Dutch & for me, St George. 
Over stile & it's going ok, past lake, the dog walkers have gone, but now it's raining.  On an old railway track, easy but boring, stop at the Beech Inn for soup and 'hoagie' of cheese & tomato (oh how I miss butter in sandwiches these days, they never use it!), & on  on in the rain to Drymen and at a Spar buy a Times & small bottle of Scotch. Tiring.   No 17 Stirling Road, to Frances Lander garrulous & hospitable, & Dorine who's Belgium & has just arrived.  Frances gives us tea & biscuits round the kitchen table & talks & talks & is making marmalade from oranges she has frozen and Mr Frances tells us how he makes the marmalade labels in colours appropriate to their contents.  I think she talks to make us feel at home.  The motto of this house could be It Might come in Useful.  At last escape to cosy cluttered room, & the Times &  Scotch.  Don't bother with supper.  Left my book behind!  Ring Morag, who says she found it under duvet & will get carrier to deliver it to Rowardenan tomorrow. 
14th 
A very good fry up & the marmalade made yesterday.  Dorine got pneumonia badly last year & quit her job & is on a sabbatical.  She is 50ish & wonderful complexion & carries a huge heavy backpack. 
The day is fine!  All dry!  Goodbye to kind Frances & David his beard tight & curling.  Round & up Conic Hill – & down below is Loch Lomond  its islands (Inch = island) some strung in a line, and near sunlight dances over the mountains & this is happiness, the sheep so white. 
Down to Balhara, past party of young men, one sitting on portable canvas chair.  Mackeral pate & beer at Oak Tree Inn.  The visitor centre has a geology demo – I am at the exact fault line where the Highlands – from America – crashed into the Lowlands –  from Europe.  From Conic Hill the line stretches out through those islands.  Talk to man, & shortly see this convergence, like loads of cement alternated wit
h rocks & stones. 
Ahead lies the 'land of Giants' and huge rounded ancient mountains.  So, walk along the edge of Loch Lomond, up down through oak & alder forests & woods & moss.  See Dorine a bit overburdened.  Overtake her & go on, and at the north end of the loch what looks like a sooty cloud blocks all the view.  Hit by rain just as reaching Rowardenan Y H, a handsome Edwardian stone game lodge. 
Inside – awful, institutionalised & cheap & glassed in staircase.  At reception – could be at the doctors – given key to room & yuk!  Six double bunks!  People have grabbed the lower berths.  Go back to reception, & at least I now have a room with two bunks to myself.  Age can be a blessing, they take it for granted I do not want to share.  Have to make up my bed, go down to hire a towel.  At least my book has been delivered with my case by the carrier.  (Dancing to the Precipice). 
Poor Dorine comes in very wet – she has not eaten a thing & there's no food available & the girl at reception is hard & unsympathet6ic.  Dorine is given the 6 x 2 room I refused. 
Go down for shower, they are eco ones, & for half a minute piss warm water.  The whole place could be splendid & it's horrid, feels like Borstal with all these Don't notices. 
15th 
What a night, what a storm, the trees hammering away,. leaves jostling like the sound of rain, the loch lapping.  What an awful place,  Lavatories miles away, up & down stairs. 
Great greasy breakfast.  Sweet Dorine looks whacked.  Told her to get a carrier for her pack.  She is impressed by my walking also the length of my marriage.  Being English I am slightly flattered but also embarassed.  She makes little mention of her husband, a little of her lst husband & Bolivia, she has 2 cats, & we both find something otherworldly & magical in Latin America, & meditate etc. We exchange email addresses. 
In the common room you can see, in spite of cheap wood dado etc how wonderful this building was in the old days, & the views over the loch.  Short walk today (8 miles) but I sit there & feel tired & make a mess of Guardian sudoku & what a view of loch & mountains but all separated by glass. 
So set off, & all ok again.  Views up to Ben Lomond, the colours all changing, the loch deep slaty blue then gun grey then dazzling silver, the trees, the bright yellow toadstools, blue scabious deep sapphire.  The lichen tight sea green lace on trees.  Ravens I think.  Along comes the Loch Lomond pleasure boat and I can hear the man's voice droning on through loudspeaker, & train & traffic on far shore.  Pass Tarbert over there.  Path gets worse, up & down & climbing over logs & rocks etc.  At last reach Inversnaid Hotel which sells postcards showing tourists here 100 years ago, the charabancs, cars & horse pulled buses.  The hotel is now part of the Glens & Lochs commercial chain, & vast, rooms added on like cells, & awful maroon upholstered furniture, & tartan carpets.  Horrid sandwiches, so I have a pint & an icecream. 
Then step step up road to Inversnaid Lodge built by Duke of Monrose.  Nice laid back woman gives me a beautiful room, all blue & yellow, overlooking loch & trees & mountains.  Don't bother with supper. 
16th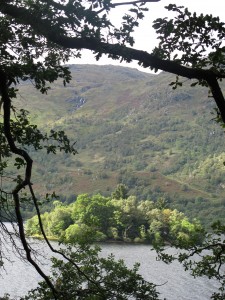 At breakfast everyone else is part of a photography course run by a fat man.  They talk of accidents, people hurled off stepping stones by swollen streams (certainly I passed memorial stones en route but I didn't know what for) – Ah yes, says fat man 2, walking is a dangerous sport.  Nobody knows what the mountains opposite are and I can't work it out on map. 
Off, & scramble up rocks & over them & over streams & up & down mini cliffs – it is 3 miles in 3 hours.  Loch Lomond is scenic but – I can't see it unless I stop. 
Then, the end, & able to walk rather than scramble.  Inveroram & at a camp site have soup & goats cheese & beer.  Ah!  On, & under road & rail, & pylons & road, & the sad vestiges of the great Caledonian forest – a few Scots pines on the slopes opposite, & great geometric blocks of modern conifer forestry.  Still, 2 great birds, buzzards or eagles above.  Into drear conifer forest, & at last Glen Bruar, nice man friendly & shows room & I collapse onto bed only taking off boots.  Skip any supper. 
17th 
Kindly inquiring couples at breakfast, & goodbye, & to Londis stores for a support sock for my aching ankle after yesterday's mountaineering.  Up into drear modern conifer forest again, so silent, & just moss & ferns & toadstools at edges of conifers & I think!  The great conifer forests evolved millions of years before the flowers, and so did ferns and mosses!  This is the primal scene in the early stages of evolution.   Doesn't look so bad now, & I see moss gardens of yellow, red & green mosses. 
Up & down, & at last down & over fields, past farm shop shouting come in for coffee – I pop in & wait but the two people do not stop chatting, so leave. 
The Fillan river, & St Fillan's Priory, rather moving ruins, he came from Ireland to convert Scots & Picts, & a Holy Pool where in a series of complicated rituals you cured people of madness & if it didn't work you tried it all over again. 
Past a place where a battle was (= everywhere tho) & the little loch of the lost sword, & a barren poisoned patch where lead mining took place, to Tyndrum – a tiny place but a welter of coaches, cars, hotels, motor cyclists & shops selling fridge magnets & kilts etc.  So into Paddy's Bar but it stinks so vg fish soup at Green Welly Shop.  
 T
hen thankfully away, & a great lovely long stretch of military road beside a little railway – once a toy train passes.  Ah!  So lovely I can walk & look at the mountains & the hovering patches of sunlight & cloud – the purple headed mountain – a mountain with rivulets running down like strands of bright hair.  Mountains, you can see how khaki evolved, patches of grass/shrub/trees push up. 
Along along, these massive mountains, it's sterner, grander, harsher than round Loch Lomond which if picturesque is far more difficult walking.  I'd love to bag a Munro, that Ben Dorain.  Wonderful to feel so reduced by mountains. 
Bridge of Orchy Hotel, oh a perfect place, run (as is every place it seems) by Poles efficiently.  Supper v. good, mussels etc. 
My room, TV – everyone in euphoria over the pope, also a programme on Newman, all hagiography but but but – what about the world of spirituality beyond, of female of plants of stones of everything of India of the universe 
18th 
A day off.  So, walk to Loch Balla & a lovely Scots pine wood, this is how it was, & look at the patchwork patterns on tree trunks, like maps, or tectonic plates, & the lichens all colours, & at Loch Balla it's isles & promontories with trees & mist &  expect to see a hand holding some precious object arise from the water.  Lunch at a seedy hotel beside the Loch in the Walkers Bar.  Two men are there, in a group doing the whole of the West highland way in a day – each couple doing a section.  They give me advice –  about route, & Rannoch moor – take care take care they say, it's very exposed, the winds the winds the rain – how men love to give advice why don't I say stop you stupid old fools instead I say yes yes thank you.  One comes outside to show me the route & says again take care & good luck & pats my shoulder,  quite sweet really. 
Back to Bridge of Orchy hotel.  Ben Dorain under a cloud like smog today. 
19th 
Huge highland breakfast & goodbye to the Poles & leave the Bridge of Orchy, the one place with a bed where Bob would feel really at home. 
So up, & off, & drizzle, & clouds hang like scenic cotton wool around the place, & up through usual drear conifers then on lovely moorland, & there is Loch Balla like a Japanese painting, monotone, the trees silhouetted at the edge, unseen mountains behind.  Pass turn to Loch Etive (means evil spirits says my new book on Scottish place names) & up & along, and then, this is really the most thrilling part, beside me, stretching up to Montag Dubh on one side & down endlessly, forever, Rannoch Moor, huge, bleak, forbidding, a vast sponge & as I get higher I can see to the distance innumerable lochans, little lakes shining like mirrors in the dark spongy morass.  Wilderness. 
Pin pricks of drizzle, Glencoe is dark & cliffs lour up like a tsunami bending over. 
King
shouse Hotel in the middle of the moor, in the middle of nowhere.  Downmarket & nice & cosy.  I have a (gd) single room over the bar, with a view of clouds & straw coloured moor. 
The walking on these 'roads' – drovers?  Military?  Both I think, but the Scots, the notice boards, prefer them as drovers.  Not for nothing were these military roads made, not just to keep the highlands in order, but to take 18th century cattle to Edinburgh & Glasgow along wonderfully gentle gradients, so you go high and hardly know it – this hotel is an 18th century drovers inn.  The prosperity that Union brought to the highlands, with communication.  They are often wonderfully cobbled, always firm & definite, never any question of getting lost, they go on, the right way. 
20th 
Goodbye to Kingshouse, & off along Glen Coe.  Since I know the 1st bit is parallel to the main road  I mindlessly follow a Dutch trio along beside the noisy road, then suddenly they come back.  No! No!  Turn round!  Dit is deep deep wet!  We are on the lower route, we should be be on the higher!  I walk on, & they cry, What of your boots!   
I
walk on & then get up & away towards the Devils Staircase.  Slanted pillars of light across mountains.  Glen Etive.  The patches of light are like theatre, on the low trailing mists now, now showing up a spur, then a rocky formation, then the bends & inclines & curves of the mountains, each part, like a piece of sculpture variously highlighted.  They are massive.  Easy to photo the prettiness of Loch Lomond but this is awesome, louring, cannot be captured on my camera tho I try.  U shaped valleys are glacial, I remember,  Well then this one must be. 
Heather, finished, mosses, ferns, up Devils Staircase, a mere scamper, to cairns at the top.  Sit down & think I hear people talking, but twice, it is great skeins of migrating geese in wavering Vs, chatting as they go.  Going eastwards to the wilderness.   Ravens, solitary. 
Down to Kinlocheven, it  takes ages.  No matter.  The massive bulk of the Mamores (= paps = breasts says my book of place names, think of connection with that ancient lost language spawning gaelic & latin etc etc, mammaries), sparkling with rivers & falls is opposite & divided by the River Leven, that must be the Blackwater Dam.  Think that is, that pyramid, Ben Nevis. 
So close here, to – what – some other.  (as in caves & prophets, people dying, babies being born, the shore & the sea, twilight, the eeriness of the between, between life  death, the mystery & unknown yet real & nearly tangible). 
U
p there, as I sit, the Dutch trio passes & she says how did you get here & he says are you very wet?  Mutual incomprehension. I feel impatient with people who complain about the midges (there are some) & the atrocious weather yesterday & the bore of putting on wet weather gear then taking it off minutes later, & i only like those who think it is magnificent full stop.  
A man, he says he's Austrian, passes.  He says this is much wider & grander than the alps, & I am surprised, since the alps are higher, but he insists. 
To Kinlochleven, find Quairaig (= a sheep enclosure) which is a semi, in this little town on a sea loch which used to have a brewery, and an aluminium smelting centre.  Now trying to refind itself as an outdoor activity place.  Nice fat woman, nice room. 
To pub for drink – & me chatting to barmaid (lst time ever) & over there are 6 Indian girls who are doing the way together, plump & very together, & laughing, & showing today's photos to each other.  Tough young men on training course.  Jobs are hard to come by here says barmaid.  At co op get lunch (=chocolate & nuts & apple) for tomorrow, and  young man at the till chats.  I love it, not being placed, other than being a walker, tho he does say it's nice me being so polite, ugh. 
21st 
Out of Kinlochleven after massive breakfast.  Can see everywhere today but cloudy, so everything is in 2D, a sort of Matisse, unrounded, just sometimes the sun shoots out for those spotlights on
the mountains. 
So, up & up then through tree level, and down there the dark slate waters of Loch Leven and up across the Paps of Glencoe.  So into a long glen, for miles, I let other walkers – strung like a group of pilgrims with their staves – go ahead so I can be alone.  Pass a deserted cottage – so few signs of the Clearances here, because there wasn't much to clear I suppose.  Hear, I think, the great bellowing of deer.  (Can't be sheep can it?)  On & on, all easy, & round the pass of Garrigmor, & through the devastation of cleared conifer plantations, & ahead I think I can see Ben Nevis again, & down there a little loch with a tiny island with a fort, said to be Macbeth's stronghold.  Two Dutch come by and they ask m
e to quote Macbeth & I can remember the witches' spell & repeat it & we all laugh. 
Conifer forest – for ages, & then, a forest road of chippings. My ankle hurts by now, this is the longest stretch.  Braveheart car park, up & along & at last Fort William lies below- the pier & trains, all miniature. 
Rhu Mor, another welcoming b & b, mine host in kilt & full scotty regalia.  Pint in town at the Crofter. 
A group of pretty girls, one with baby in pram, tout for custom – gently calling 'hi' to passing men. 
Shops of mountain/outdoor gear, & scotty bric a brac. 
22nd 
Just a boiled egg for breakfast, what a relief.   To bus station rolling my case.  Along Great Glen to Inverness in bus, or coach as they call it.  A fault line, with series of linked lochs & canals, I need a map.  Fort Augustus – after Wm Augustus Duke of Cumberland.  Inverness, station, train to Forres.  Then bus & another bus to Tove (= Danish) & Gordon at Arden House, Findhorn. 
Findhorn = exquisite stone village at the end of river by dunes & a vast sandy bay & the sound of water birds, the bus goes past the Findhorn Foundation, past Arden House, round the village & back to Forres.  My room overlooks the wide open natural harbour before the river reaches the sea. 
Tove recommends the Wednesday sacred dance at the Findhorn Foundation & so I go, it is led by lovely woman & is a circle dance from Bulgaria & Macedonia & all sorts of places, peasant & court dances.  We all hold hands.  I pretend I am on the stage of Cover Garden – though I am not v. good at dancing.  All the others – we have to give our names at the beginning – seem to come from anywhere but England.  Beautiful evocative music, and when we let go of others hands & raise our arms up and look up – well it is a sacred communication with blessings from above, & strong because not stated, not didactic, it emerges from the action.  A boy aged 14ish with his father cannot stop giggling at all of this as he joins in, he is almost collapsing.  A sour bent woman only looks so, she is French, at the break says she has been coming to Findhorn forf years.  One young man in the break practices snake like contortions.  All in an exquisitely built hall of wood. 
Walk back in dark. 
22nd 
Breakfast which is porridge with nuts & bits of carrot & currants with Gordon & Tove & her friend Judy.  They say in winter it is so cold, but on bright days wonderful to walk outside where the water is frozen at the edges and makes an amazing sound of music & cracking as the tide goes out.  In summer they skinny dip.  Last night was equinox & Gordon had a ceremony on the beach  and saw dolphins. Then Gordon takes me into his meditation room with 4 vast shining gongs, & plays them – with reverberations which seem to go on for ever even when I can no longer hear it.  Wondering when I can politely leave, then a beautiful girl comes in & sits, & Gordon gives her a stone, & I namaste & leave.  Later learn she has cancer.  Gordon is from Sheffield, & very practical.  He asks where exactly Winchester & Hampshire are, I say you just drop south & keep going, it is amazing how remote the south is to northerners.  Tove misses her grandchildren in Denmark. 
To Findhorn Foundation, buy self-gude, it is raining so sodden soon – here is the Caddy's original caravan (tiny for 4 adults & 3 boys) and here the garden which was virtually sand when they started.  Here round houses constructed from whisky kilns, & a shop with loads of homeopathy stuff also rough pottery, food & scotty tat.  Best is a sanctuary where the roof is flowering heather. 
Evening into pub for a pint & some crab.  All the gables are stepped in the village.  Then to a building in the Field of Dreams at the foundation where we watch a video of Eckhart Tolle telling us Now is all there is. 
23rd 
Gordon hugs goodbye, Tove drives me to Forres station, & train to Inverness, then Edinburgh.  Tea with William & Margot, & they leave for book festival at Wigtown.  Geordie is delivered from school.  He is now playing with Lego, & Dex at an overnight stay with a pal & will be back tomorrow.