ROSES
It's like returning to a discarded lover who has stayed faithful through the years.  I was just bored with roses.  They were so damn flowery.  Decades ago, I was told to spray with chemicals to stop the mildew, blackspot, you name it, 'to keep them clean'.  I never did.  But now I see you once more and know that in fact I love you. You have such variety you are never boring.  The east wall is papered with Pink Perpetue, symmetrical and much admired,  scentless but whose petals neatly fall.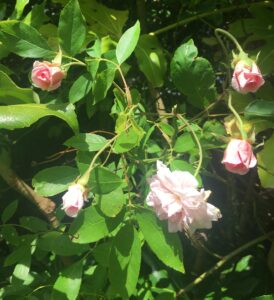 Best is Cecile Brunner, a glorious climber over an arch.  Every year, generous and profuse, with little pink buds fit for a doll's house, and spreading everywhere.
There's English Garden, which manages to be both yellow and pink, and Francesca, gold, among the flower beds, doing well despite the
lack of full sun.  Along the fence, there's Mrs Herbert Stevens (I chose her because Granny was 'Mrs Horace Stephens'), white with a hint of pink at the centre, a superb climbing tea rose introduced in 1922, repeat flowering and still widely available.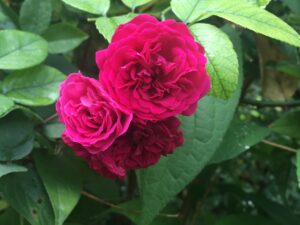 Chevy Chase is up the holly, at the end of the garden, small clusters of crimson – the best colour for shouting from the end of a garden.
In my  wild garden, which is genuinely wild with brambles and nettles rather than stocked with of dainty natives, I had Canary Bird who has now reverted to stock, and shoots a long stream of dog roses – more appropriated really than actual Canary Bird which never could be seen.
Zephirine Drouhin, despite her sweet scent, had to go because of her black spotted leaves and garish muddled flowers.  Also two roses I detest, from Delbard, ordered and planted because of the swoon making descriptions of their scents in the catalogue.  Yet, despite being given the best position and treatment, they are like unpleasant people upgraded to first class – they spend their time whining and sulking.  I shall remove them this afternoon.
As for the rest, no spraying ever.  For anyone.  Just some mulching in the winter and a generous handful of Orgro Concentrated Manure which comes in a large sack from Mr Fothergill's, www.mr-fotherfills.co.uk.