PEDDARS WAY – APRIL 2016
PEDDARS WAY – late April 2016 
DAY ONE
It's not obvious from the road, the start of the Peddars Way.   We whiz past it, then drive back and get out of the car and see the signpost – Icknield Way to south, Peddars Way north.  So cheerio to Mike (thank you Mike!) and off we set. 
The Peddars Way is a Roman road, marching from the middle of Norfolk near Thetford to the edge of the Wash.  I don't know what they called it, but by Tudor times it got its present name, presumably from the latin pedes, foot.  Ann has arranged where we stay, and for the transfer of our bags by www.hikehelp.co.uk.  
We start in the woodland of  Knettishall Heath which is starting to green up.  We are accompanied from here to the coast by two plants in bloom, ground ivy, and Alexanders – later I am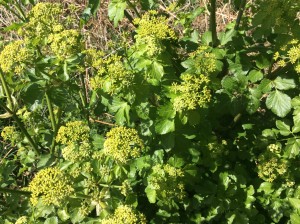 thrilled to find it is named after Alexander the Great – he planted seeds on his expeditions east.  Leaves, flowers and stalks are all edible.  So, these handsome green umbels and glossy leaves, not natives, might have originated from seeds scattered by the Roman legionnaires, copying Alexander, so travellers could have some veg en route. 
All is delicate new greenery, with the beauty of beech, and just a few bluebells, and stitchwort. 
There's a stone and we slowly work out incised words under the lichen: 
FOOTPRINT OF OUR ANCESTORS
REMOTE AS FOSSILS
WRITTEN ON CLAY
AND WASHED AWAY
OVER AND OVER
OVER AND OVER 
We cross the river Thet which goes into the Little Ouse, then the busy A ll whose hum we hear from a distance, and a railway.  We are in the Brecklands, aka the Brecks, sandy with bracken and Scots pines, and we walk beside land which was taken over by the military in 1942.  Notices on barbed wire say DANGER and DO NOT ENTER.  Helicopters stutter above, then RAF planes howl and roar.  Bet the pilots love it.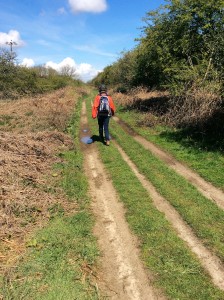 Our Way now also becomes the Pingo Trail, of which more below. 
We have to go off course to Thompson village and with difficulty find the Chequers Inn.  We are cold.  We were each given a hand warmer full of gel – you press and this cold sac of liquid becomes hard and hot.  Mine works but Ann's doesn't.  North wind.  It's 5.45pm and the place is shut, so we sit miserably at wooden tables ashtrays filled to the brim with rainwater and sodden fag ends.  Then at 6.00 the Chequers opens, and here is lovely plump bald owner/chef Richard, who shows us in to our room in adjacent annex.  Everything changes, & it became a great pub, room for drinking, room for diners.  Decent bedroom.  Bowl of fruit.  Good food, and although it's in the middle of nowhere, the place in due course is packed.  Fish soufflé and the blueberry crème bruleé! 
DAY TWO 
Richard brings breakfast to our annex, and with us is, oh bliss, a pingo expert, a naturalist, here to study the pingos!  It's an Inuit word he says.  Norfolk pingos are circular ponds formed from melting ice over chalk at the end of the last ice age, and they house flora and rare insects unknown elsewhere.  He's campaigning to stop them being filled in.  We've seen quite a few of these ponds in woods.  Also marl pits near fields, dug in the middle ages to get the clay, chalk and nutrients from below the sandy surface and fertilise the land.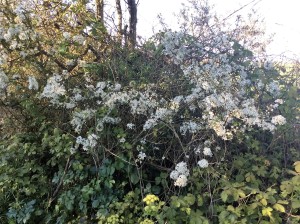 March, march, march.  Off the Brecks and on to rich Norfolk farmland, with corn coming up, and rape in full bloom.  Its gold and its heady scent spread for miles.  Hedgerows burst with blackthorn, white clouds of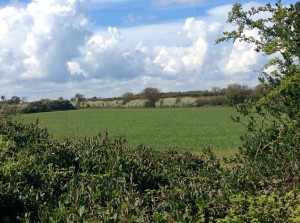 blossom replicating clouds above.  This is why we walk, day after day.  We become part of the land. 
Countryside undulates rather than rolls, and as we walk on this barely perceptible ridge sometimes we see for miles.  Cloud shadows move over fields and woods.  Crops sway under  the north wind. 
Away from the military & RAF land, but far above we still hear the drone of planes.   
One stone says 
SURVEYORS HAVE MADE THEIR LINES
ON THE LAND
TRAPPING ALBION IN A NET OF ROADS
A TAUT WEB ON THE EDGE OF
EMPIRE 
And another 
FROM BLACKWATER CARR TO SEAGATE
SINCE THE PLOUGH FIRST BROKE THE
BREAD OF LAND
PIGHTLES AND PIECES
PLOTS & PASTURES TO EVERY MAN
HIS STONY ACRE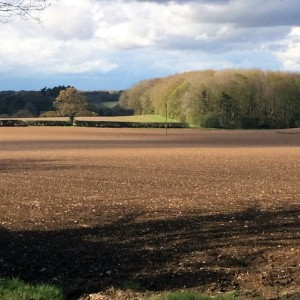 We pick up flint stones.  Was this shaped by a legionnaire, for cutting meat?  No pubs en route, this is the downside of the Peddars Way, but Richard has given us cheese sandwiches.  It's a long way, Ann reckons 18 miles from Thompson to Castle Acre, and then I screw up the map reading by turning us off at Great Palgrave Hall rather than Palgrave Hall – Ann points out the correct sign, but I have more faith in my map reading than the sign, and we go the wrong way and arrive at the busy A 1065 and have to tramp for one or two miles before picking up the correct route.  Into a lane, over a footbridge and into Castle Acre as the light fades, walk up into the village and see lights, which can only be the Ostrich Inn.  Boy are we pleased.   
Good room in this ancient pub, I have the double bed this time which looks out on the swinging green board with an ostrich holding a red horseshoe in its mouth.  Down below is a faded sign to the ostlers' entrance.  (Ostrich, ostler …?) 
Supper in large old bar.  I have two starters including vg duck pate.  Ann, our wine buff, chooses the wine. 
My hips are aching.  Wonder if I need hip replacements.  Ann's knee and back are aching. 
DAY THREE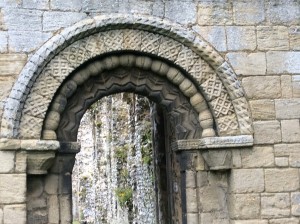 The wonderful black cook gives us croissants he's just made, and a picnic in a box.  THANK YOU!  Too late, we think we might have slipped him a fiver. 
Castle Acre is an unspoilt village with central long green.  At the Costcutter shop, Ann buys large bar of fruit and nut and I a bottle of brandy.  We explore the ruins of the Clunaic priory.  What a massively grand house the prior lived in!  What huge quarters for 25 monks!  Dare say they had a lot of lay help.  Just sit in the sun out of the wind, absorbing the feel of it all – the flint ruins, the yellow wallflowers embedded in the walls, the trees, the Norman details of the huge church ruins.  Flint is Norfolk's stone. 
Only eight miles today to Harpley but the first two or so are grim, as the Way is metalled, and we have to cope with cars.  Sometimes it retreats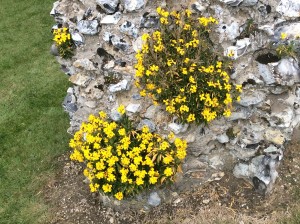 goes behind a hedge. 
Today's stone, rather like a Celtic cross, says 
THE PIETY OF EVERY MAN AND
EVERY WOMAN'S WHISPERED PRAYER
CLASPED IN THE GRAIN OF WOOD
AND STONE AND IN THE GRACE
OF ANCIENT AIR 
Eventually we reach Harpley and Meadow View Farm, the smart modern home of Amanda Case.  She is welcoming, and within minutes we find we were all at Runton Hill School together over fifty years ago.  She remembers me, Ann remembers her, and I don't remember her at all.  'I was really thick.  I did love lacrosse', she says.  'Ah, so did I' says Ann who was captain of lacrosse and a lot of other things.  I say nothing.  I loathed lacrosse.  House is light, chintzy, with family photos.  All immaculate.  Her son is a trainer Ben Case who Ann knows all about, and so Ann and Amanda make horsy chat.  Ben has a promising horse called Midnight Jazz.  Our room has duvet covers with plant designs and ditto pillowcases.  Make tea in our room, and Ann fills a hot water bottle (there's one here!) and lies down with it against her back and for the first time does not feel pain. 
So tired we decide to stay in although Amanda has made a reservation at the pub.  Ann is reluctant to cancel – having a restaurant herself she knows how annoying it can be.  Then, rather than cancel, Amanda drives us to the Rose and Crown.  I have skate and Ann risotto, excellent.  Ann chooses the wine.  Revived, we walk back, and Amanda invites us into her shabby sanctum with the dogs for a glass of wine. I gently inquire about the scandal when Miss Robson left Runton, but Amanda is either ignorant or discreet.  (Miss Robson was having an affair with Miss Willis the games mistress, and later sacked.)  Ann and Amanda talk more horse.  Amanda was widowed ten years ago and still finds it hard.  She likes b & b for the company. 
DAY FOUR 
Amanda gives us breakfast, perfect coffee, homemade marmalade.  With us is another woman going on about eggs which give her asthma, her avaricious step children, her diabetes and more.  We listen politely. 
Off we go, and all day we slowly descend to lower ground.  My hips are fine!  Ann's knee and back not so good, but Nurofen and brandy help muffle the pain.  Amanda has made us sandwiches.  Any pubs have closed for ever.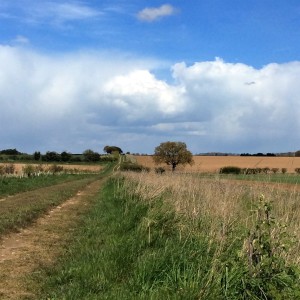 Good walking, but it's Saturday and at the beginning we have to stand aside for motor bikes.  Then we can hear virtually nothing. 
You'd think it was impossible to loose your way on this Roman road, straight as a ruler, but sometimes it deviates, particularly when as at Magazine Cottage and Farm the owners seem to have destroyed any signs – to keep pesky walkers off their garden?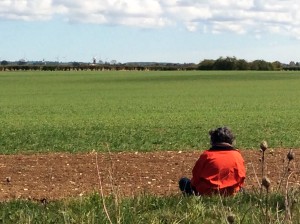 Sit down, and in the distance are one ancient windmill and several modern windmills – wind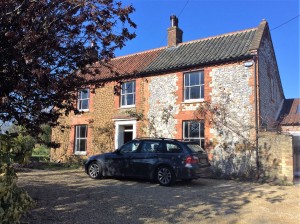 turbines – old and new technology side by side.  A muntjac deer, and a hare.  Silence.  A field of broad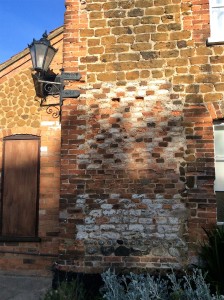 beans with faint evocative scent. 
Into a valley and over a river and up to Ringstead, the one village with a pub – apart from the Ostrich at Castle Acre – the Way actually passes.  The Gin Trap is open!  We go in for tea – made with leaf tea – and a chaser.  The local stone is no longer flint, and houses here are a mix of white chalky clunch and carrstone, which is like gingerbread. 
Up, past an old windmill now a house, and along, and we can sea the sea.  Alexanders and ground ivy still flower beside us.  We pass our last stone:  
AND I BEING HERE HAVE
BEEN PART OF ALL THIS
CAUGHT & THROWN LIKE SUN
ON WATER
HAVING ENTERED INTO ALL
AROUND ME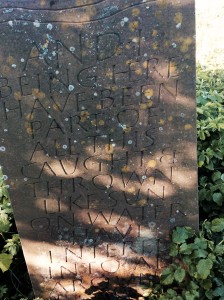 Love these stones.  We work out the words through the lichen and say them, and then repeat them as a single unit, like doing a translation.  They are mystic runes and the Peddars Way is Norfolk's songline.  Later learn they were put there by the dear old National Trust, composed by Hugh Lupton and sculpted by Tom Perkins.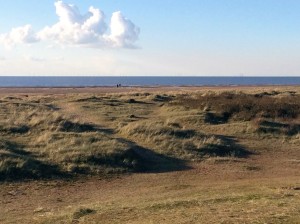 Beyond Holme next the Sea we reach the sea, over the dunes! 
Ann has lost instructions for ringing tonight's host for a lift – it went with our baggage carrier – so we walk along the coast, skipping over a fence to the golf course which is easier walking than loose sand, to Old Hunstanton.   We can see the striped cliffs, white and brown and brown, clunch and carrstone and something else.  We go into a smart hotel, and Ann asks about the Corner House and Joe which is all she can remember.  The barman knows. 
We find the Corner House facing the sea.  We knock, then open the door and peer past a lavatory bowl growing a very tall pot plant.  It's dark and dusty.  A pinned instruction tells us to go to the side door.  We go through a junk yard with broken prams and the like and find Joe, or Jose – he smiles and shakes our hands.  His face is smeared with food, we've interrupted his supper.  He leads us through a dark dining room, across the lobby and opens a door to a damp musty bedroom with a small double bed.  'But you said it was twin beds!' says Ann.  'It still fits two, if you're old friends you'll be fine' says Joe.   He points to a greasy sofa.  'I can convert that if you like'.  No no, we say.  Either way the sofa and bed look horrible.  It's quaint, with eleven dusty radios on the shelves, shelves of ancient books – one title is 1000 Tattoos – and piles of old leather  suitcases on the wardrobe, and pictures of landscapes and soft porn girls on the walls.  He's a man who can chuck out nothing.  It's like a recycling centre.  From our lavatory and shower – converted from a pantry with tile floor and no mat, we can see a broken fireplace leaning against a wall.  It's not the quaint décor we hate, it's the damp, cold and grime. 
Stunning sunset.  Understand why people live beside the sea.  Indifferent food at the Ancient Mariner, a modern building got up to look old. 
DAY FIVE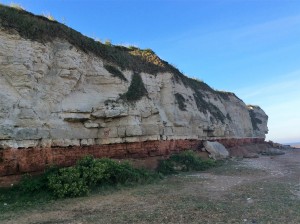 I could hardly sleep, I was so cold with only half the duvet and, were the bedding  even changed?  So I get up early and walk beside the striped cliffs.  Thousands of nesting sea birds on its face. 
After last night's greasy fare, we can hardly face Joe's cooked breakfast.  Toast, butter & marmalade are enough. 
Joe drives us to the bus station.  He must be about 70, and he does this b & b entirely on his own.  He really should employ someone to wash and clean, and buy new sheets.  He needs a woman to point out what's so depressing about the place.  We thank him.  He's a kind man, but … 
Bus takes us to Kings Lynn station, and leaving almost at once is a train going to Ely for Ann, then on to Kings Cross for me.
Now I write, and walk again the Peddars Way.