PAINTING PARADISE
My garden is the nearest I get to paradise.  It is my sanctuary.
Years ago I went – I don't know when – to see Painting Paradise, the Art of the Garden at the Queen's Gallery, Buckingham Palace, with plant and garden paintings gathered by the royals over the centuries.   I loved the manuscripts of Islamic gardens with octagonal ponds and chenar (plane) trees,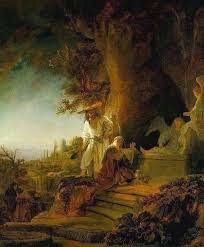 lovers and flowers (their deep symbolism barely mentioned in explanatory notes).  Ditto Rembrandt's painting of Christ as a gardener, complete with trowel.   Ditto some medieval gardens.
Then royal and aristocratic grandeur.  We got to 16th and century baroque gardens for show and prestige, knot gardens, 17th and 18th landscape gardens creating an idealised countryside with temples and waterfalls, then Edwardian herbaceous borders, pastel and pretty – all interesting historical stuff, and inspiring in reality, but in these paintings the soul had turned grey in its cage.