PAINSHILL PARK, SURREY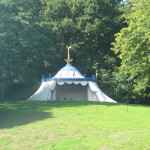 I've been there twice, but never in the crumbling grotto – I'd walked around the motley collection of follies and was not planning to go again but when an invitation arrived for a press junket with guided tour to see the newly restored grotto, well, I had to go – despite being allergic to guided tours.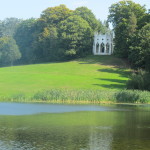 Arrived at Painshill, having negotiated Surrey's endless suburbia, & parked. The usual press greeting with bix and lukewarm coffee from a thermos. Then off we set, about 12 of us, with head gardener Andy – into the walled garden, nice enough but September isn't the greatest time for a brilliant display when you're restricted to 18th century plants – just gourds like fat white biscuits in a shed and an impressive Celone obliqua with flowers like turtle heads. It's all got to be authentic 18th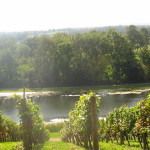 century, because that's when the garden was created by the Honourable Charles Hamilton. (9th son from Ireland, so obviously not a lot of cash to flow around, and he relied on loans from pals to create his post-Grand Tour dream). He bought land and started improving the parkland in 1740, certainly before Henry Hoare at Stourhead got going, though over years they must have noted what the other was creating.
So we walked up the grassy slope to the recreated vineyard sloping down the other side where Hamilton grew grapes – aspect fine but the gravelly land was not the ideal alkaline soil usually required. Oh but it was a surprise, a glorious view, down over the vineyard and across the lake and river, then over untrammelled countryside up to the North Downs. (Why are views so thrilling? The soul expands and soars over space and hills.)
At the edge of the lake we could just see Hamilton's 'Ruined Abbey', and the remains of his brickworks where he attempted to make some cash, as with the wine from his vineyard. (He failed, the pals demanded their money back, and eventually he had to sell up and leave).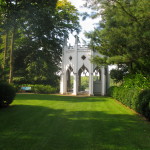 We crossed an amphitheatre surrounded by a curve of mixed evergreens. Andy said in the 18th century good taste demanded that evergreens should not be mixed with deciduous, and herbaceous perennials not grown with shrubs, and so on. (How they loved to sort things, people into social classes, plants into botanic classes, and keep them there – keep em separate, keep em where they belong!)  Everything was categorized, and kept in its place to flow with a gentle line – as in a picture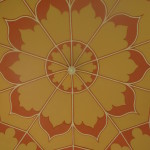 by Claude or Poussin. It was nature perfected, and although it's unreal it still convinces today. The words they used were 'organised chaos'. Chaos?  Only because, I suppose, of the contrast from the geometric gardens then, with straight lines & avenues & perfect circles it seemed chaotic.
And so we crossed to the Gothic Temple, and we were stunned, as we were supposed to be, as we suddenly came to landscape dropping to a lake and island within the park, and a five arched bridge, and a Turkish tent high on a hill. The whole scenic tour was planned as a menu, with tasters, and we tried each dish before moving on to the next.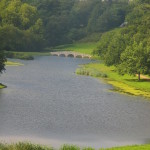 Down a twisting wooded path, via a champion tree or two, and the Ruined Abbey, and over the Chinese Bridge, to the newly refurbished grotto. Its outer stones (flints?) were like the skulls of a charnel house. We stooped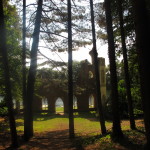 and entered, and stumbling via a dark and twisting path under flakes of feldspar and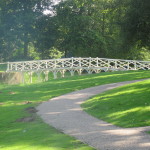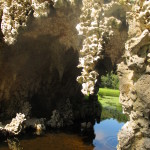 quartz we entered a chamber with glittering stalactites dropping down from the roof.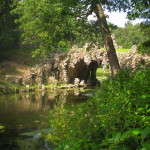 And a table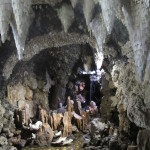 with glasses of Painshill's very own bubbly waiting for us! Little waterfalls splashed down, pools quivered. Small caves, side temples it seemed with pagan idols arched off. Through a hole we could see a grotto extension across a narrow strip of water reflecting shining rocks and shimmering.  I turned my back on everyone and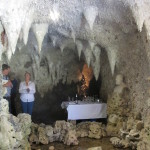 drank my bubbly and I could hear the laughter and roars of Hamilton getting blotto on the very same bubbly, in his very special and spooky creation.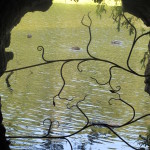 Worth a visit? Oh yes, but make sure the grotto is open. It lacks the coherence of Stourhead (apparently, a poetic recreation of the travels of Aeneas) and the patina which centuries of continuity bestow. This is a major restoration. Its numerous follies are beautiful but slightly random, like chocolates from a box. But, no matter! It's a lovely place, and will only grow more so.