North Wales in June …
So off we drove to north Wales, and after going through Llangollen on that ancient coach road to Holyhead we went through the Horseshoe Pass (why are views so uplifting, why is being reduced to an unimportant blip on the landscape so uplifting, and being reminded that one is nothing beside geological ages such a relief – maybe it's that things just don't matter, the earth will look after itself long term, and meanwhile I am part of it, fused into this body at the moment, but then off into molecules and atoms of everything else for eternity) and get to Llandudno.
Llandudno.
The Imperial Hotel where Bob's grandparents lived for a while. Smart and stuffy, and fine, even with a back view, but they can only do us for two nights. I think of the towns of north Wales as being tired and seedy, but here the houses & hotels & b & bs are bright – flowers and foreign students along the promenade, and way off across the sea an army of giant ghosts,  a wind farm. Places are called called Balmoral and Marlborough and Windsor.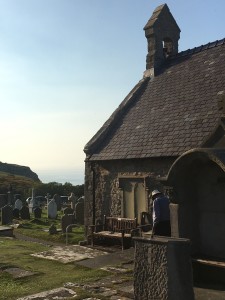 We drive up and round the limestone hulk of the Great Orme, to the chapel of Saint Tudno, who is one of these 6th century Celtic saints who spread from Cornwall and Britanny all over northern and western Britain. He retired to a hermitage here to redeem his father's sins – King Seitherenun's naughtiness caused a tidal wave to drown his kingdom in Cardigan Bay. Today's chapel is Victorian – they must have felt near heaven up here, looking down over the sea and across the bay. Dozens of Victorian graves (the railway arrived, and the tram still comes right up here) – they all rushed to be buried on this high holy spot, and services are still held today. Ancient copper mines nearby.
And to Bodnant gardens
which from the upper terrace have views of the mountains beyond.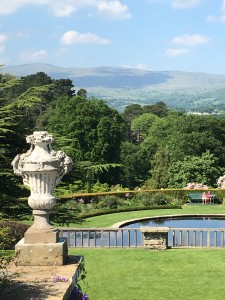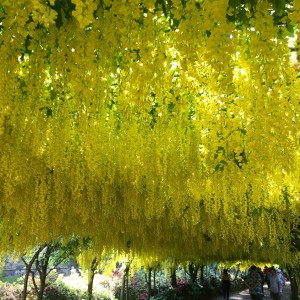 Now, the end of May is time to see the laburnum arch – in fact more a tunnel, encasing us in gold. And, it is like stepping in a scent bottle. We have managed it perfectly, and this tunnel curves slightly, so you can't see really the end, and the other people don't matter, because the
glory is above and around us. The variety is Laburnum x waterii 'Vossi' which produces long flower racemes – who would have thought that laburnum, usually a small brassy tree clashing with everything else in the garden could be so glorious.
The whole garden is on different levels. White lacy wisteria coming out on the steps, with nearby a bed of blue poppies, Meconopsis neptaulensis, I think.   No idea why this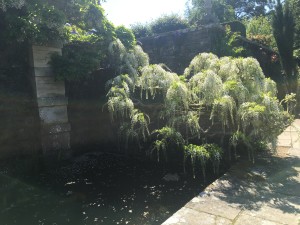 ethereal light greeny blue is such a heart stopping colour. Down below by the river, a tributary of the Conway going into the Menai Straits – it's nice enough but full of 'Champion Trees' which in fact are ancient geriatrics which lost their looks long ago – and I can't see much sign of tomorrow's champions coming up.
Anglesey
We tried to stay at Beaumaris, but the place was full, then we tried Treaddur Bay, but ditto, and so we drove on to Holyhead – not quite so down at heel as I remembered it, but still seedy, as ports and places of passage tend to be, and thankfully got a room at the Boathouse Hotel overlooking Holyhead mountain, the main rooms overlooking the marina and breakwater.
I'd always wondered as a child why this mountain and place was holy, but well, the grownups didn't know and they didn't have Google to tell me.  Anglesey was the haunt of druids at the time of the Romans. The Romans said they practised human sacrifice, and overcame Mona, and built a fort on the mountain, the Sacrum Promentarium, and built a fort there. Later St. Cybi came from Cornwall to live and preach here. So, always pretty holy.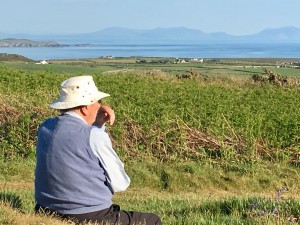 To South Stack, overlooking the wavering blue line of Snowdonia and over there is the sea, and the iron age (earlier?) hut circles of stone, threaded with a fine sedum and thrift beside heather and bluebells and bracken. Here they lived in their conical huts – there must have been trees then, for poles on which to overlay the thatch – and we can see slabs of stone inside for a hearths or whatever. It must have some days have been as glorious as it is today – the blue of mountains and sea and bluebells, and they twisted a few strands of nettles into fishing nets. Anglesey is packed with hut circles and menhirs and dolmens, but, how little we know what they were like.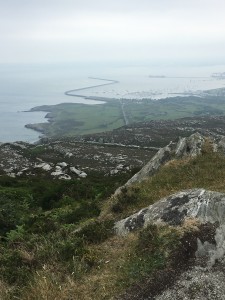 Next day I climb Holyhead Mountain, to my amazement and delight it is easier than I thought (so many my age, Ros Gay, Charlie Borden, Jonquil Hinds tumbling into permanent disability), and the day gets blowy and misty but I can still see the view of seventy years ago, the arm of the breakwater, and the ferries, why two, ploughing in from Ireland, and a brave yacht which looks as if it is going to turn turtle (do turtles?). In the cairn of stones must be some placed by us all those years ago. And, here, growing through the low windswept gorse and heather, are orchids, the common spotted, quivering in the wind.   Down, to what is no longer a quarry, but a Park, and then along by what was the railway to bring the stone on carts on rails pulled by horses to the breakwater and more.
Plas Newydd overlooks the Menai Straits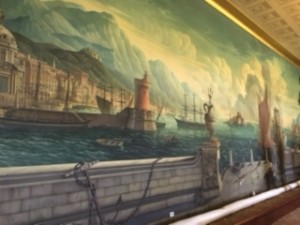 Bob is keen to see the Rex Whistler mural at Plas Newydd – it is a capriccio of an Italianate city beside the sea, and look, here is Admiralty Arch, and Windsor Castle sitting with a blasted wall on an island (he painted it when Edward VIII was abdicating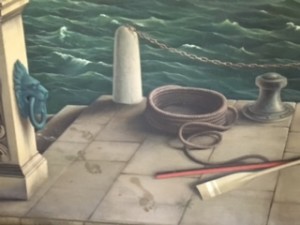 and the monarchy, it seemed, in peril), and a house in Brighton where he stayed. And here are wet footprints of Neptune who has just stepped from the water and propped his seaweedy trident against a wall to join the family at tea. All so beautiful, lighthearted and somehow familiar. As a gardener, Rex mournfully sweeps up rose petals of the lover who has rejected him. A dog stands guard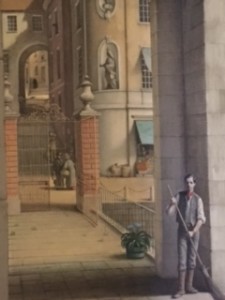 over a bowl of meat, beside a book and a pair of specs and a smouldering cigarette waiting for someone (Whistler, who died in the war?).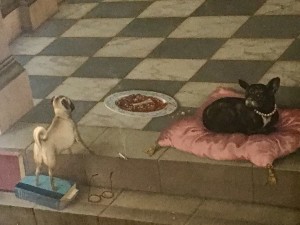 Another room has bits and pieces by and about Whistler. One I love comes from a poster for the Tate Gallery restaurant, where he painted a mural, and it shows a fat lady prissily sipping her tea, while around her dance maenads, satyrs, flute players – all the splendour and inspiration and otherworldliness of art, and she is unaware.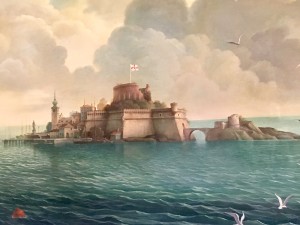 The family are the Pagets, and One Leg Henry was the one with Wellington at Waterloo who shouted, By Jove, I've lost my leg! And the duke replied By Jove so you have!
Geology. Afterwards, we go to a beach which Bob had marked on a map years ago 'wonderful rocks', but it is a vast strip of sand packed with families playing and building sandcastles and we can see the rocks far off but the tide is in and they are now inaccessible, even if Bob could walk that far. However, going back to the bridge we turn off to see a tall pillar with one leg Henry on top, and below there's a geology map striped with the island's rock strata, complex and ancient compared to the simplicity of Hampshire's rolling downland. Upheaval after upheaval, lava turning into basalt swallowed back countless times until it becomes, at the moment, strip after strip of ancient varying rocks. Henry stands on his pillar atop an outcrop of blue schist.
Carnarvon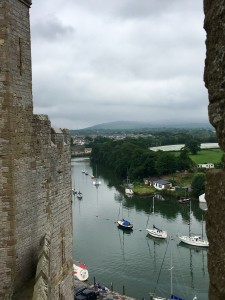 A decent hotel in Bangor? No. Scruffy dump. We go on to Carnarvon, and just outside the walls find the last room going at the Royal Celtic Hotel. This place is a sweet medieval town, walled, overlooking the water of the straits, with a fine medieval castle (Edward 1st, Welsh castles usually are built by him unless by Welsh princelings) – you can even see the stripes of the different stones, like the Roman castles. I climb up to the top with views over the Straits, and to where Prince Charles' investiture took place, and think of all the flummery mummery they made up for the occasion, as if it was an ancient rite soaked in meaning.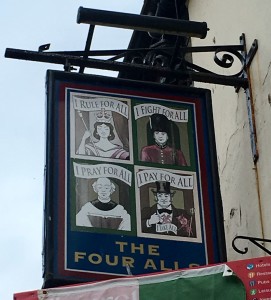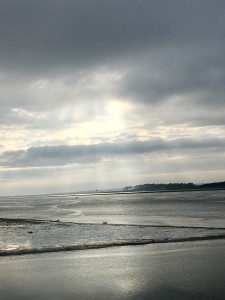 By the walls there's the Stones Italian restaurant with Slow Food. Best food we've had. In the walls there's the four Alls pub, (I Rule for all, I Pray for all, I fight for all, I pay for all = queen, clergyman, soldier and it looks like a banker, and a little devil (=taxman?) taking all in the bottom righthand corner).
Port Merrion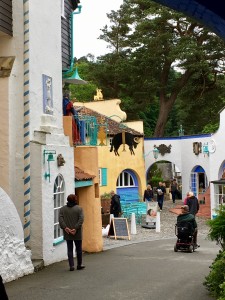 Heaving with people, is it always like this? This Italianate village on the hillside going down to the estuary was designed, with old buildings Italianised, by Clough Williams Ellis, all plastered and painted bright Mediterranean colours. I've been before, and found it charming, but now… well I find it all a bit too quaint and artificial, although yes, it is pretty and inventive in its way, I am not wild to return. Loads of cafes not looking like cafes and the like, and cottages which are let to holiday makers. What is it? It's Disneyland for geriatrics. Everyone is particularly nice, the other punters and the ticket collectors (we pay to enter this 'village' which is open 9.30 to 3.30), and there are flowers and gardens, buton this grey Welsh day the colours look bleak rather than jolly.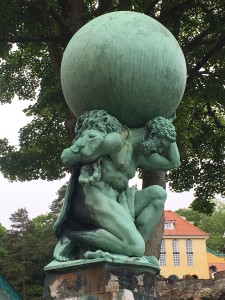 Down at the base, by the water, is the hotel which looks perfectly decent but costs over £300 a night.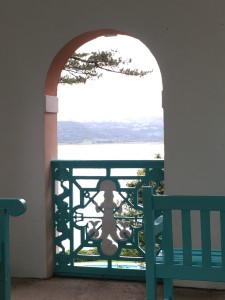 I take photos, which tend to be better when they are of individual things. A sculpture of a lounging lion chewing at a soldier's arm. (Was Rex Whistler here? It is his place, and it has his fun, if it weren't all overdone and pretending to be what it isn't). I like the logo of the place, which is a mermaid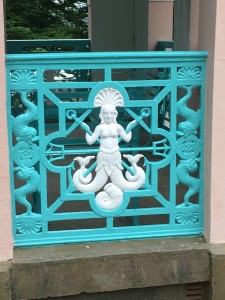 with a swishing split tail, and I like the default colour, bright turquoise. I like Atlas with his cloak made from a lion skin, the exhausted lion having a chew, in vain, at his arm.
We drive on, because Bob wants to find David Nash's ash circle, a ring of weird bending tree, but we cannot find it. We go on, via Blaenau Festiniog, its mountains and slopes thick with slate shards, still a working village and huge, & terraced houses all neat, and pubs, and somehow I like it more than Port M. It's more authentic. Along along, and then we rejoin the A5, and though vales and mountains, get to
Llangollen
where happily The Hand has a room for us, overlooking the river and Castle Hill with its ruins, (but unhappily practise day for the male voice choir is Friday, and today is Tuesday). Pretty indifferent meal in the bar, but somehow it does not matter. Wordsworth stayed here, and Dickens, and loads more – the place was a stop on the stage post to Holyhead. All rather downmarket these days, at this and all the adjacent hotels.   I suppose those with cash stay at Corsica and the like.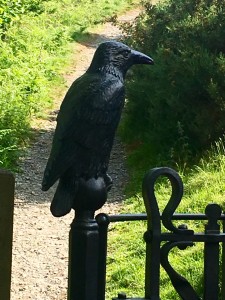 After breakfast I go up Castle Hill for a final view of Wales, past a wonderfully sculptured black crow, but I am more concerned about not falling over than exulting in the vales and hills. (Age!) It was the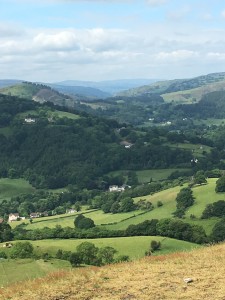 castle of a Welsh prince. We must go home! So, I fail to visit the ancient and beautiful church of St Collen, another Celtic saint – this one slew a giantess to save the people of Llangollen (not sure about this story … reminds me of the earth goddess at the island of Aegina, and ditto Delphi, who was overcome by Apollo – all it see is the original female sanctity overcome by male domination). St Collen visited the land of faerie folk, who turned into bedraggled crows when he sprinkled holy water over them. Despite earlier misgivings I love legends hovering in mist! A core of fact overladen with story …and I think again of my childhood, and all I then never discovered.
2017