No Wonder Pick Your Own is no more!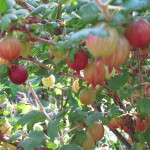 I'm fed up with my garden birds, blackbirds, thrushes the lot!  Loads of gooseberries, which I don't mind sharing, but why do they always take the easiest to pick, leaving me with prickly hard to reach fruit in the middle of the bush?  Especially now, when Whinham's Purple left to change from green to pink to dark sweet delicious purple, the size of pullets eggs, hasn't had a chance.  They're virtually all gone.
Next year, remember, NETTING.
No wonder the craze for PYO is over.  The wretched growers couldn't cope with all the fruit or veg lightly skimmed by punters – runner beans torn half picked from bamboos, and while parents pick a punnet or two their children gorge on rasps and strawberries.