New Plants So Far …
JANUARY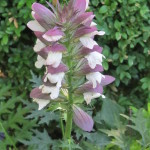 Acanthus, I planted 2 from RHS under the gleditsia, having seen them do well in shade in Winchester. In March, find label Acanthus Tasmanian Angel, all variegated & spotty sickly – ugh! But is it them?   (August, and both doing ok and not variegated, and one has had a tall beautiful flowers)
MARCH
25 Gladioli from Jane Fuest. Planted them in pot to see how they do and, that way, I have more control over them – slugs, weeds, watering etc. Jane's are in pots. Varieties:
Given names seem completely wrong.  Wine and Roses 'soft pink & red blotch'. never flowered.Macarena. 'Violet with white edging'. never flowered.
Princess Margaret Rose (that takes us back to c.1930) 'Orange and red flame.'  More just orange.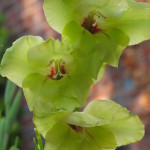 Green Star – 'Green.'  But ours were better than that, green  with a weeping red eye.  Best of all
Baccaret – 'scarlet & white'  More just scarlet.
(August.  Jane's did better than mine, but both lots keeled over because we planted the corms too near the surface.)
Lysimachia ephemerum     To go in west horseshoe. From WI market, should be ok, and vg on farm.  (August. Can't see it under a mass of other growth)
March. Sowed in pots and put on spare room windowstill:
Cyperus. Papyrus. Useless, did they give me the wrong seed? Just like ordinary grass.   (August. Chucked it out)
March.  Antirrhinum Purple Twist – this and the cyperus like dust specks in tiny phials had to wash them out awkwardly and doubt will have any luck. Fact is, I am not a very good gardener, at getting difficult things to germinate. Got one to germinate, and it looks (August) v. floppy without backbone and a not very pretty freckled pink.
Moss curled parsley, sowed some of it
Parsley Giant of Italy, sowed some of it – by May all parsley germinated and in garden, some from pots others just from the ground
Two weeks later, all the above have germinated in their pots on windowsill … now comes the tricky part, to keep them alive and growing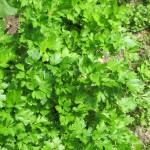 (August.  Best parsley for both has been earliest sown. The Giant has a wonderful boisterous taste. At last I have a parsley forest.  They say it grows best where the woman wears the trousers, though I don't feel I do.)
March. Peony suffruticosa Pink Lady – Took it from where it had been sulking, no flowers, for years, to west horseshoe where it should get more sun.  Died.
Agapanthus blades showing in all pots!   These are agapanthus, v. cheap, from Parkers, and arrived not as bulbs but as bulb quarters or eighths.  I was disappointed – BUT!  Up they came, everyone, and by August they look particularly healthy.  Just leaves, but with alluring names, one pot of Midnight Cascade, another of Back in Black so, in due course ….
Clematis integrifolia – dark thin shoots ditto not at all sure in fact they are clematis. From Parkers.
Angelica pachycarpa from WI market, woman said would be ok in part shade. Been a bit overshadowed by the white rosebay, but keeping on, v. glossy
APRIL
Clematis alpine Blue Dancer, Easter present from B, planted outside diningroom facing west.  (August: climbed up wires v. well).
Auricula primrose from WI market, in bud, for my theatre.  (August: all look fine, one even decided to flower again)
Clematis Mrs Cholmondeley, blue like the one at Western Court, outside dining room window (August: doing fine, but now wish I hadn't played safe & had another blue, & instead got that lovely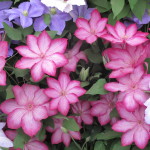 stippled red from Chelsea).
May 
From Mr Fothergill
Stellar pelargoniums, Grandad Mac, Robyn Hannah & Rookley. Looked stunning in catalogue, messy in reality, rather boring too.  Therefore no pic here.
Victoriana, pretty ruffled pink columbine from WI market – hope it breeds with all the others – it is like those fancy Elizabethan ruffs you see in portraits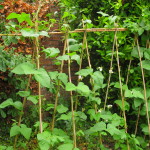 Runner bean Flavourstar, from Mr F, they are poking out of their pots in the greenhouse, little pointy spades. 29th, now planted, all looking very trim and neat. (August – now eating the first, always the most delicious. White flowers.  Had masses, can't tire of them!  Layers of them with boiled egg & cheese sauce, & then baked, and yesterday tried a bean tortilla. V.g)
Martagon lilies Aspen Gold (3 stems) & Nicotine (3 stems) from last day at Chelsea, having won tickets from M & G the sponsors – both like marmalade, & cost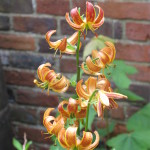 £7.50 each (from HW Hyde & son) – will they reappear next year?  I staggered back home, v. happy.
Hemerocallis lilioasphodelus lovely yellow scented day lily from Ros Wallinger flowering now.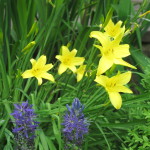 AUGUST
Geranium nodosum, from WI market, supposed to be good in shade and tough.  2 weeks later, flowering away in shady spot, v. happy.
Albizia, from WI market, I must be mad, where is it going to grow? The silk tree – growing to 3 metres. Still, if it survives, it can grow in a pot for the time being. With 'pompon pink and white flowers after three years.' It needs sun, the one thing of which I am in short supply.
Rhubarb Poultons Pride from Mr Fothergill's press day, supposed to be worth pulling all year. Planted among other 4 other rhubarbs looking v. holey from slugs, touch wood it will be ok.  Got some special anti-slug spray which is supposed to be ok for birds etc.