Kew Gardens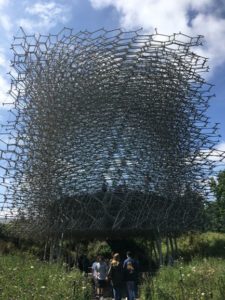 The Hive is the big excitement. Kew Gardens have bee hives, and their sound is amplified through a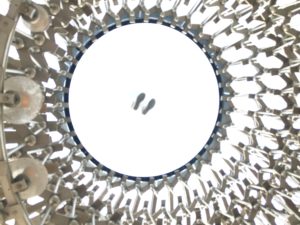 construction of metal network, a huge mound of interlacing silvery hexagons. The varying sounds indicate begging for a food sample, pointing to food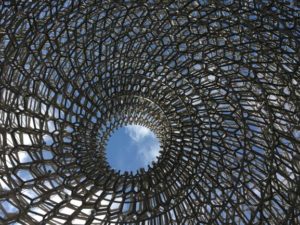 supplies, 'tooting' and 'quarking', but you hear not so much a buzz as a throb and hum: live music and the sound of heaven. Perfect for meditation. At ground level we looked up and saw the feet of people through a circle of murky glass, then we climbed and entered the centre of this hive.   Feeling the throb inside us, looking up through the net to the hole above, like Rome's Pantheon with the sky beyond – we were bees inside the hive, and oh to wave our wings and fly into that blue.
But first, I met Prophecy, and we went by train to Kew Bridge, walked over the river and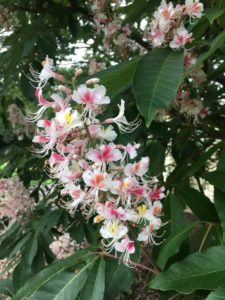 paid £17 to enter. In the old days it was 2p!
The first thing seen often seems the most striking. Here it was some Aesculus indica, Indian horse chestnuts in glamorous mode, glossy leaves & fringed bell flowers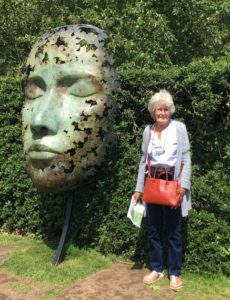 some palest pink, some yellow, some cream.
Lunch, chosen by Prophecy, v. healthy with lots of leaves.  We photographed each other, Prophecy beside a green man, and me with some lilies.
Prophecy paints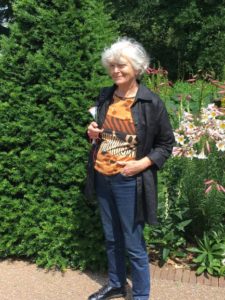 flowers, so we headed to the Sackler gallery, passing a bed of orange alstromerias backed by pink roses, ugh, and then a bed of soothing greys, whites and pinks. But what were truly ugly were glass installations by 'the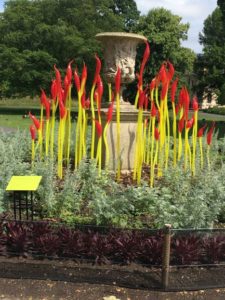 iconic artist' Dale Chihuly. They would have been fine at night lit up in central London, but in the garden these shapeless blobs and grasping feelers elbowed any flowers aside. Fluorescent blues and reds and oranges. Here, I've inserted a pic of one of the better ones, not in competition with everything else.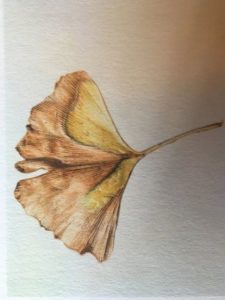 The gallery was crammed with more of this ugly glass. But there was the consolation of some permanent paintings on vellum by Rory McEwen – he can paint a dead leaf picked from the pavement as the most beautiful thing in the world. The care, the examination! Surely everything must be beautiful if contemplated sufficiently long?
Back, still hearing the hum of the Hive.