JULY SMELLS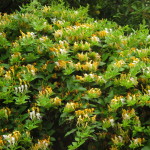 Summer scents!  It's the honeysuckle spread like a shawl woven gold and cream over branches of a tall Stranvaesia (?) which wave up and down, it's the double philadelphus at the far end of the garden, it's the trachelospermum which sheets the shed wall in twisty white stars.  The philadelphus is quite pungent, but the other two waft scents I can live with all day, no bullying here, like the lavender which has just started to open, they are more stroke than shove.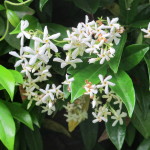 Soon there will be lilies, strong and sinister with their promise of death.
For longest of all there are leaves giving smells at a pinch, the rue and rosemary and mint and oregano and so on, and brightest and best, lemon verbena, Aloysia citrodora, which manages to be bracing and soothing at the same time.  It just about survives the winter in the very cold greenhouse.
I like rue, its odd strange smell, a key component in Four Thieves Vinegar which robbers used to wrapped round mouth and nostrils so they could rob with impunity in times of plague.    I used to have the dragon arum, jewelled with green metallic soldier flies who thought it was dung.   A foul smell.   But it didn't like the shade, and I miss it.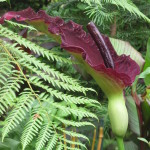 Contrast is all.  Everything similar makes for bland and boring.