Jerusalem the Golden 2010
JERUSALEM    Below is what I sent to my sister Lavender (her husband Charlie being Jewish wanted to know how it went) : 
Jerusalem is beautiful – partly because all of it, even the new city, is all built in creamy gold limestone. I stayed at a Lutheran guesthouse in the Armenian quarter of the old city, spotless & with a garden with views over domes, spires, minarets and satellite dishes.  Here is the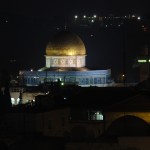 view from my room at night.   The other guests – they only stayed a night or two – were pilgrims in groups, a few Americans, quite a few Germans since it is German owned, orthodox Russians, Armenians all wearing scarves – the small women clustered round their portly priest reminded me of Toby's bull with his heifers.   And here are tiles in the breakfast room.
I flew there by El Al, very good and the kosher fare approved by the London Beth Din. The El Al section of Heathrow was surrounded by four armed police! The El Al people asked, why was I going, who had arranged my trip, where was I staying, who did I know, why was I on my own, wasn't I afraid and, where was my luggage? Clothes for a week in a knapsack? Not possible. Looking rather dowdy I was let through.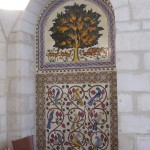 I arrived in Jerusalem by rail – it was a hassle, but romantic, winding through wooded ravines. The first day I walked the ramparts of the old city, all high up, overlooking the garden of Gethsemane and Mount of Olives, and saw the Wailing Wall – did I send you a picture of it? Later I was in the new city, virtually all Jewish, where on the outskirts is the Israel museum which you would love, good modern art, dead sea scrolls – the oldest biblical texts in existence by 1000 years and wonderfully laid out so even I could understand what they were about, archaeology.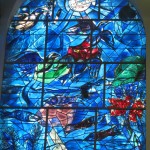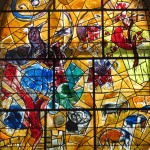 Also at a hospital there are some gorgeous synagogue windows by Chagall, the 12 tribes of Israel and each a different jewel colour. Also, the botanic garden with biblical plants. On the Sabbath, when everywhere shut and no buses etc, I visited churches, church of the Holy Sepulchre etc, but this was not a brilliant idea because everyone else had the same idea! In the old city there are four quarters, Muslim, Christian (= RC), Armenian (= orthodox, and the most moving singing, all adult male, in St James cathedral like a grubby box of jewels), and Jewish. The Jews are buying up housing and property in the Christian, Armenian and Muslim area, and have priority – many think that in due course, because of emigration to Australia etc, there will not be a permanent Christian presence there. As for the Muslims, they are breeding faster than even the orthodox Jews, it is a baby race. 
People always were helpful, when I asked for directions, which bus etc. They usually spoke English. There is a lot to be said for being an elderly unthreatening English woman. I was even complimented on my English accent – 'you're obviously not from London' they said! I suppose they meant the east end. But no one ever chatted – not even the nice women in a tiny cave restaurant where I went to have falafel in pitta bread for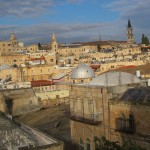 lunch, although I tried to get them going. 
One day I caught a Palestinian bus to Bethlehem, only Palestinians in it, everyone very silent, and through the Wall. When there I did not know where to go in this large dusty hilly town, and was picked up by a taxi driver called Nasser, who took me around the place and to Hebron through the Judean desert, to a holy site there, 35 km away. It was spooky, his hatred of the Israelis, and all the way he pointed out the 'illegal' Israeli settlements surrounded by loads of barbed wire (armoured buses shuttle the settlers into Jerusalem for work), and talked of massacres etc. At Hebron 400 + soldiers guard 400 settlers. It is the site of Abraham's grave and so v. holy to both Jews and Muslims, who now after various shoot outs share it, with separate times and entrances. It was the time for Jews when I was there, and inside I was offered cake and tea by the women. Nasser had to wait outside a caged turnstile at some distance . (There were moments when I felt like the Invisible Man, going from one side to the other, and trying to recollect whose side I was supposed to be on). He also showed me Banksy murals on the Wall, of a rioter hurling flowers at the Wall, etc. The field where the shepherds saw the star was the most peaceful place in Bethlehem – pilgrims from the Congo singing away and wearing cotton garments bright green specially printed for their pilgrimage. Then, to the bus, and the Wall again, and passport examined by soldiers. The grim dour atmosphere! The whole thing was very eery, and so desperate to think there is not going to be any real settlement or peace in our time. (The guide book told me not to go to Hebron, too dangerous, I am not quite sure why, but there were no other tourists there, and the poor stall holders in the souks were in a bad way. I bought a varied necklace from a friend of Nasser's, who had been to Manchester, to show willing).  
The Wall is ugly in every way, but it has served its purpose of stopping suicide bombings – Jerusalem certainly felt very safe. Petty crime I guess is minimal.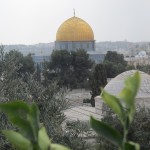 In Jerusalem loads of ultra orthodox Jews, heredi, in their black hats, suits, prayer strings hanging from trousers, walking very purposefully and never looking anywhere but where they were going, or at a prayer book. Sometimes on a bus it was like being in a monastery, with everyone men and women (hair in scarves or snood, clothes usually black, eyes down, I thought looking pretty miserable) convulsively (head jerking to and fro with the intensity of it) reading their prayers. Ditto on the streets. On the mini-bus to the airport, the final passenger was an ultra orthodox, and since the only seat left was between me and another woman, what a to do! In the end a man on his own had to sit between us, so the ultra orthodox did not sully himself by sitting next to a woman.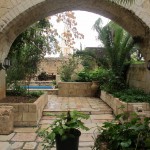 Before, I hadn't appreciated the fact that there are loads of Israelis, including virtually all secular Israelis, who are liberal and would like to work out some deal with the Palestinians – these are the ones visiting the fantastic Israel Museum, and active in arts, business etc – and opposing them the religious right, including the settlers, who are behind the present Likud government – who want everything according to religious rule (as well as downgrading Arabic from its present status as an official language, & not showing women on advertisement hoardings etc ) and who I think have no concept of living in a multi-cultural society, the very idea would be anathema, although in fact they do – with Christians, Druze, not to mention the millions of Muslims around them. (I am sure Tel Aviv is far more liberal than conservative Jerusalem.) God gave them Israel, and it is theirs. An English language newspaper showed a car with TRAITOR sprayed on it – car's owner obviously a peacenik. 
Bob was going to meet me at Heathrow but was not well (he had been dizzy, so I was glad to be back, he is now fine), so I got a bus to Winchester and then to Alresford – the main thing I noticed was people joking and chatting, which I never heard them doing in Jerusalem.  It was a relief.  
Jerusalem the golden with milk and honey blest.  That was why I wanted to go there.  In fact, there's something desolate about the place.  But so good to have been there.  And I would go again.