HADRIANS WALL, NOVEMBER AND MAY 2018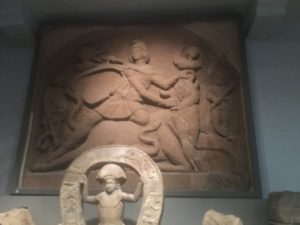 NOVEMBER 2018.  What the guide books don't say,  the best bits dug from the Wall, like  a beautiful cameo brooch, a sculpture of Mithras slaying the bull – can you see he's pulling the bull's mouth open? –  as he creates the world watched by a dog, snake and scorpion, and another one of him surrounded by symbols looking almost like a risen Christ – at in the Great Northern Museum in Newcastle, where there is also a splendid long mock up of the Wall itself.  Mithras was a mysterious god from the east, introduced by Syrian soldiers.
Stayed at the Royal Station Hotel, and surprised how lovely bits of Georgian Newcastle are (curving Grey Street,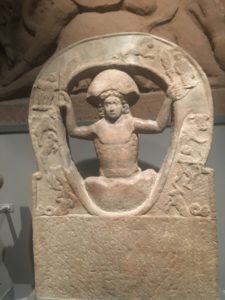 with a pillared monument to the great man – Lord Grey – who pushed for the Reform bill – on top), as well as the Piranesi effect of these massive bridges crossing the Tyne, and the Sage concert building like a silver slug on the other side at Gateshead.
MAY 2018
We didn't walk the full 84 miles from Wallsend to Bowness, though we met people who had, more for completion than to see the drear outskirts of Newcastle and Carlisle.
Ann and I spent four days walking though the grandest scenery in Northumberland, no in England, east to west, from Robin Hood Inn at East Wallhouses, bang on the wall, to Blenkinsopp Castle Inn near Greenstead. Sometimes we felt like birds flying on air, sometimes like little figur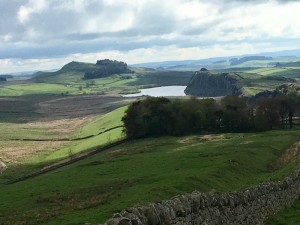 es about to be smashed down a precipice.
We booked every where beforehand following Bill's advice – he's done this bit twice.
We met at Newcastle Station, grand as a castle, and since we have bus passes, took a bus (every half hour), with fellow OAPs and a girl with a baby in a tiny pink and white bedecked carriage like a child's coffin, through the run down suburbs and cheap mega shops of Newcastle to, at last, a roundabout outside Corbridge. We were the last people on the bus. All very scenic, and we eat Bill's sandwiches (chicken & pickled cucumber) by the ancient bridge, then walk over into the town. Nice, bit twee (cake shop named Scrumshus etc). Go in a tea shop to warm up. Ring for taxi – and man crossly asks 'which group are you part of? All taxis are on school runs now'. I say we are two old ladies and not in a group at all. He doesn't sound so grumpy and in fifteen minutes we are off to the Robin Hood Inn – nice welcome, food and room and bang on the Wall. Nobody knows why it's called the Robin Hood. 'They just pulled a name at random' says the owner.
DAY 1. 10 or so miles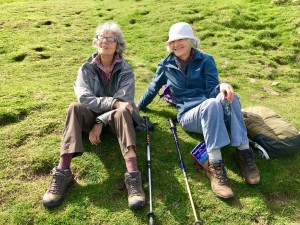 Leave our cases behind for Janet's Baggage service.
Ten plus easy rolling miles to Chollerford, occasionally crossing from one side to the other of the dead straight military road, B 6318, which is essentially the Wall widened and rebuilt by General Wade in the 18th century – today's traffic seems to ride high above us. It was, by the Romans and then the 18th century English, built to control those pesky Scots, and we can see it beyond the grassy vallum, a protective ditch at least fifteen feet deep. Kissing gates, stiles, stones in the wall, wooden steps, up and down, up and down. Where it's boggy the path has been firmed by massive stone slabs. Lemonade at an indifferent pub en route.
Heavenfield, actually was more battlefield than heaven, & where in 635 AD Saint Oswald fought and overcame the local pagans – now there is a sweet and ancient church here, a place of pilgrimage.
From the high ground we descend the valley to the George at Chollerford, oh the most wonderful garden setting for this hotel with the arches of the bridge making a series of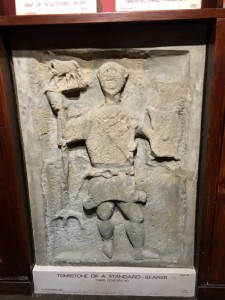 perfect Os in the reflecting river Tyne. But despite our warm welcome by Alec, and the swimming pool and the setting, it is a crummy dump, with a mean room, and nice but clueless Poles, poor food and a garden which should be beautiful but which is half dead. I swim in the kidney shaped pool.
DAY 2. About 7 miles
We have breakfast in the Biker's Caff, opposite, better than the George foodwise said Bill – bacon and egg baps, all done by nice plump local girls.
Along the pavement to Chesters Roman Fort – oh this museum is excellent, with stuff dug out by John Clayton, Victorian landowner. He was the first who appreciated the Wall in its own right rather than using it as building blocks. He excavated it – not for money but to preserve it, and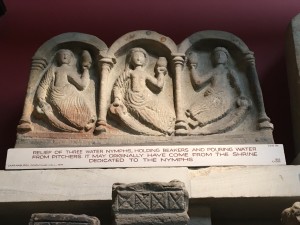 though we have not yet come across the Wall as such (its stones used for the widened road, etc), he bought up land carrying the Wall we have yet to reach. Three nymphs for a nymphaeum at the bathhouse surely. And penises, one in the museum carved on stone like a trinket with a ring (reminds me of the coral amulets, sometimes penis shaped, in Italy and pictures of Christ wearing one). Another carved penis in the buildings.
Penis = amulet, general prophylactic and good luck symbol, and maybe for a brothel here. 'Can you tell me where the penises are?' I ask the woman ticket seller. 'Well, there are quite a few' she says. Incised boar, emblem of the 20th legion Valeria Victrix stationed here.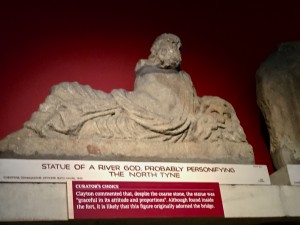 Bath house by river, for heated water, oh they were civilised these Romans, and neat lines of barracks where they slept with their horses at the far end, and the commanders house with its atrium. So beautiful now. We leave. 'I hope you found what you were looking for' says ticket seller in the now crowded room.
Away gently from the valley – it's like walking on a golf course – up and up to moorland, and here is our first proper section of Wall, wide and strong. Ann has a bottle of beer, but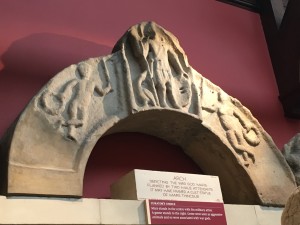 we have no opener. This was a problem yesterday – we feel parched looking at this beer inside.
Then, the Mithras temple, on low bleak boggy land, what must it have been like for the soldiers, worshipping this mysterious bull slayer in the darkness, and performing initiation rites to get in? Think of Theseus, bulls in Crete, bull fights in Spain … all stemming from a like culture. We resolve to visit the Mithras temple in London, in the city. Find a pair of leopard skin gloves which I keep, Ann finds a hat but she doesn't keep but wishes she had. No one having left these behind is going to return to fetch them.
On and on, higher and higher and we come to Carraw boutique b & b, £115 a night.  V. pricey, in fact they all are, on the Wall.  A slightly chilly welcome from Leah whose first words are to take off our boots (which = clean) but all is forgiven for the view from our room and bathroom, down over miles of countryside and not a building in sight. The light, the colours and shades of greens, the woods, the clouds rolling here and there, rays of sun ditto.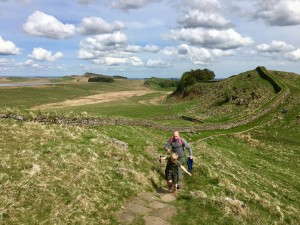 Leah arranges Liz's taxi to take us to the Red Lion at Newbrough – Liz is jolly and chatty, and the pub is fine with the most perfectly cooked cheese soufflés, and full of locals. Landlord has no spare bottle opener, and all the beers have caps with serrated edges which don't come off easily. Use your teeth, he suggests. But think of the dentist bills we say. Then knock it against a stone, he says.
Comfy beds, and next morning I wake just to see the valley full of swaying mist and the light coming through light clouds. It calls me. I would come back for this. Sheep, trees, woods, sky.
Scrambled egg with smoked salmon for breakfast, a bit greasy.
DAY 3. About seven miles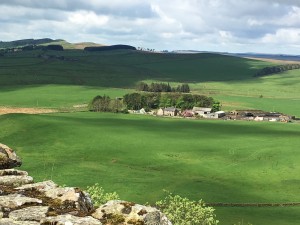 And now the military road swerves away and though there is still the vallum, the main defence for the Wall is the crags, cliff outcrops overlooking the infertile yellowish swampy ground to the north, while to the south are trees and green fields. Up and down, up and down we go, often steeply. Along high ground and suddenly the path descends as though down a cliff, and if I fall I am going to break many bones. Terrifying. I get down jerkily, using my sticks. Going up is a doddle. Then down again. Ann is more agile.
Did I mention the views? North and south. Acres of sunlight move like squadrons of angels swooping across the land.
Trig point with slit, aha, Ann manages to open bottle of beer with our lunch, and it is cool and perfect with our sandwiches.  MEMO. In future, always bring a bottle opener bottle.
And so to Housesteads fort, which is fine except it's a Saturday and all the mums and dads are here, and the shop/museum is essentially designed to get their sprogs dressed up in Roman army gear complete with plastic swords. Still good to use a lavatory – squatting in the open is not always convenient.
So on, and more of this terrifying up and down, balancing on stones. The people we meet now are walkers, or trekkers as we're called. Down at Sykamore Gap, famous from a Robin Hood film they say, and we take a shortcut to the south and make for the Twice Brewed Inn. A bit tired for the first time, it's the terror of those clifflike descents. Brisk sturdy local girls deal with us, and ok room except Ann has the large double bed (no no Sarah, you take it, No Ann, I had the best bed last night etc) and I have the bottom of a bunk bed with no bed light. But comfy.
DAY 4, LAST DAY. 12 miles or so, quite easy.
And so after, decent breakfast in the Twice Brewed, which has a brewery attached to the pub and restaurant – it is what it is as Ann says, £85 for b & b, we follow the road up to the Wall again, thick and well built. Sometimes there's a more modern wall, to stop us falling over the precipice, sometimes there isn't. Down below the Twice Brewed is included in the view which reaches for miles beyond and becomes included in this blessed land.  Ann screams, Sarah, keep away from that cliff.
Sheep, lambs, cuckoo flowers, bluebells, violets. Ah. Down, not so very bad here or perhaps I'm more into the rhythm of it, and the up is a quick scamper, always easy.
We sit, and two glamorous young women each with a dog pass – 'Can we help you?' – this is the usual  response at the sight of us sitting down.  One mentions her feet are hurting and doesn't know how long she can go on. We watch them proceed to a vale which seems distant, urging their dogs over five stepped stiles.  The little terrier can scamper but not the larger dog who is hauled over with difficulty.  Ann is thankful dog Kidsky is not with us.  Usually dogs are on leads, with all the sheep and new lambs around.
Down to the vale, and farms (if they are ultra tidy they must be holiday homes, we think),
and a disused quarry which is now a small lake semi-circled with basalt pillared cliffs. A car park, so on this Sunday the place swarming with young and buses, and foreign tourists freshly caparisoned. Along past farms and gently up again, walking as we have before over what looks like an unexcavated fort, all grassy lumps and bumps, and surely a temple here, with hole where looking down we can see an ancient arch. This is part of the excitement – so much is still unknown.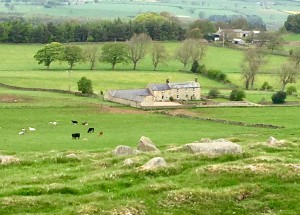 Up to the last line of crags, and in places no wall at all, just a spindly wire or not that separating us from a fatal fall, along – we are near the end, and we are sorry. We can see the long line of crags we have walked. Near Greenhead the wall, built so precisely with its courses of square faced stones, makes the local walls, nice enough in their rough way, sometimes with a line of flat protruding stones, look amateurish.  How those Roman builders must have despised the barbarians they lived among! In one place, there are eleven, yes eleven of these perfect courses. I'd thought of the Romans as gladiators, in the Colosseum, killing each other for fun, all bread and circuses, but along this Wall we've seen soldiers from Syria and Dalmatia and Italy working and living in such a civilised and orderly fashion in a bleak northern land. Clean, warm – well to a degree. I'd rather live with the Romans than the Celts or Picts, just as I'd rather live in Israel than a
Muslim country …
Down we go, and at the base we are thankful to have done it, completed this bit of the Wall. Ann brings out the brandy, two doubles bought last night in case of cold and exhaustion, and poured by kind barman into a small plastic bottle, and we each take a couple of swigs in celebration. Along through a bluebell wood, into a lane, and here is a Roman Military Museum. Of course we must go in. In fact, and we are used to this, it is full of facsimile stuff and toys for the children. Best is a film, showing Housesteads fort as it is now, then fading into pictures of it imagined in its prime.
How to get to Blenkinsopp Castle Inn? Museum curator tells us to go across field to Greenhead and then along main road, but the Explorer map shows a more direct path. Over main road, fields and railway line and another main road to Blenkinsopp, where we find, among mobile retirement homes, the 'boutique' Blenkinsopp Castle (not much castle anywhere) Inn and a warm welcome from Carol. £85 a night.  Can we get a taxi to Haltwhistle Station in the morning? Gary will take you! Good looking Carol was a bank manager in Newcastle, while Gary supervised hospital buildings and electricity and the like. Five years ago they took early retirement, and bought this place. 'We didn't have a clue what we were doing'. She laughs. It's an obvious success.  They are both v. outgoing.  We see the two doggy women we met along the Wall, and they look as glamorous as ever, if exhausted.  One has had to put her large dog into kennels, and is going home tomorrow. She hobbles. The other is continuing with her little dog.
Janet's Baggage service (£48 in toto for us both) has yet again winged our cases here – thank you Janet, our unseen fairy.
Décor is very much Carol's, with loads of pink over the place – & mats, mirrors etc are heart shaped etc. We have a room, v. small but twin beds, looking over the mobile homes – beyond are hills – which have been bricked at the base but Gary tells us they still have their wheels attached, so they are officially caravans and pay no tax. Good customers at the bar?  No, they haven't any money.  They have no cars, but there are buses. They're in their 60s and 70s, he says, so they just want to potter around their gardens. Ann and I raise eyebrows.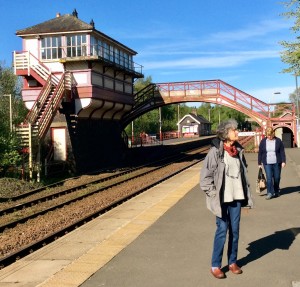 Next day – barmaid does an early breakfast for us, and Gary drives us to the station – Ann offers to pay, but no, it's all part of the service. I got a cheap ticket on line for Ann, and she wrote down the code, and Gary extracts the ticket from the machine – we shake hands and goodbye. Haltwhistle is a period piece station – bridge nearly a half circle, signal house like a boat in mid air. We get in train for Newcastle. At Newcastle, back in the ordinary world, Ann gets train for Peterborough then Ely, and I get train for Winchester. I drink last of brandy -Ann insisted I take it – as I sail along, and live again walking those crags. Writing this I walk them again. Goodbye.