GREEK ISLANDS – LESBOS AND CHIOS
Lesbos and Chios   October 2017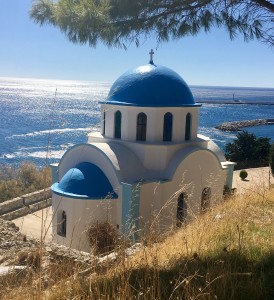 The islands – blue and white. Blue,  the sea, the sky, the domes (one shown here in Ikaria) and doors, the window frames, the squares of sky dotting the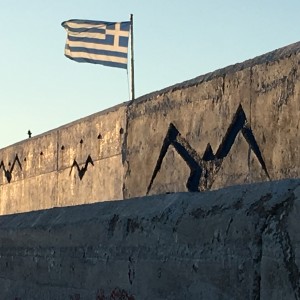 mountainsides, hives alive with bees like squares of blue on the mountainsides. The white of the houses, the sea horses, the wide circle of silver on the sea, the Greek flag. Cobalt, indigo, navy, aquamarine. And the myths. The head of Orpheus torn by the Maenads – could they not hear his music? Was it too modern – floated across the sea to Lesbos, and was found on a sandy shore with his lyre, still playing. Icarus falling into the sea at Ikaria, Dionysus inventing wine.
LESBOS
First to Mytilene in Lesbos where we see the blue line of Turkey over the sea, and a room at the Sappho Hotel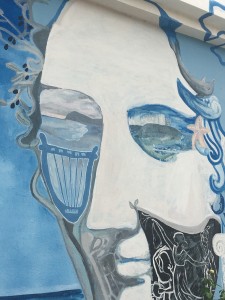 overlooking the harbour.  A statue and murals of Sappho, born here, and I buy a book of her poems which Bob loves, takes it everywhere in his pocket. Amazingly some of her poetry was recovered from strips of papyrus binding mummies. He is struck by: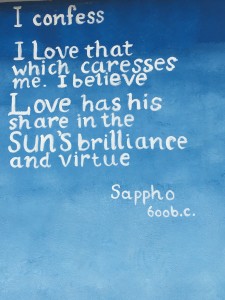 … already old age is wrinkling my
Skin and my hair is turning from black
To grey; my knees begin to tremble
And my legs no longer carry me …
Oh but once, once we were like young deer
…. What can I do?
I know I must die …
Yet I love the intensity of life
And this and desire keep me here in
The brightness and beauty of the sun …
We got a cheap flight (hand luggage only, and only 6 kilos! Makes life simple, travelling with basics), and at Mytilene airport catch a bus to the centre.
Above the harbour stands the Byzantine, later Genoese castle, formerly acropolis where Kore and Demeter, and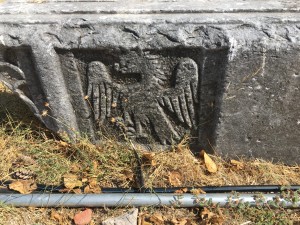 before that Cybele were worshipped. Little remains but Genoese crenulated walls and roped off piles of rubble, and the views – maybe it has a resonance because no one else is here. People chucked down written curses for the gods of the underworld to work on.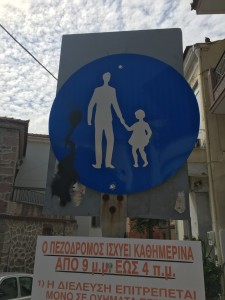 Museum has Roman mosaic of Orpheus and charmed animals.  Going back, a street sign with a man holding a little girl's hand – in the UK it might be seen as Warning, Pederasts around.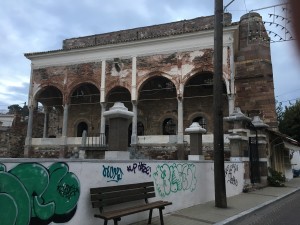 An early print shows Mytilene spiky with minarets. All gone, though in the poorer area the remains of a mosque are graffitied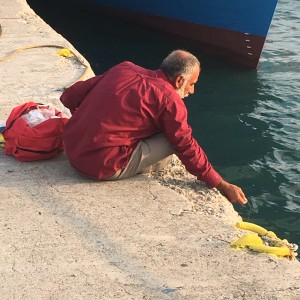 with spray paint. Muslim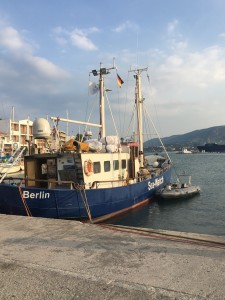 migrants trail along the front, fish in the harbour and linger by a vast statue of Liberty (!). Boats patrol the coast, going out at night and a crew member hangs out laundry in the morning. A British ship, the Valiant, is here, and a German one too to help migrants. At a restaurant I give a child something but am surrounded and give no more.
I try to learn a Greek word a day, but now, all I have left is Efcharisto, thankyou, and Kallimera, good morning, and Kallispera, good evening. Yasu, cheers!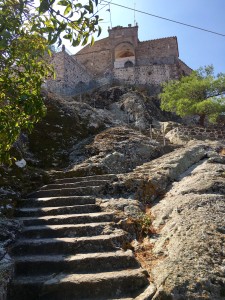 A bus over the mountains via Kalloni – salt pans, flamingos, egrets – to Molyvos. I see heads floating on the sea near the shore. People swim. We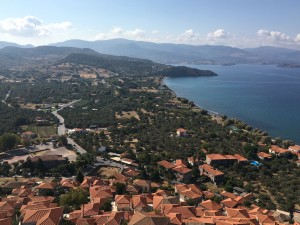 stay at the hotel Amphitrite – a nymph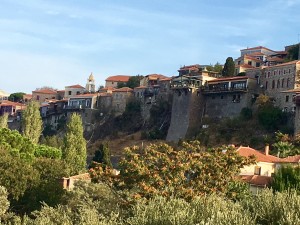 loved by Poseidon who became a mermaid – which looks up at the cliff of castle and houses. Swim in pool, and sea nearby.
Greek food isn't the greatest but the Women's Cooperative taverna run by Maria,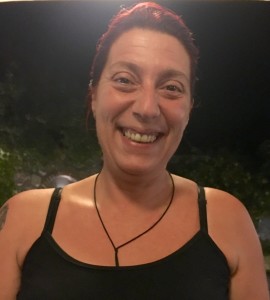 who uses her mother's recipes, is excellent, with a specialty every day. One day a beef souvlaki, a casserole with each portion steamed for hours in a paper bag. Another day, octopus fritters.
Bob books a car for 20 euros! a day. (It's brand new. They must make their money from biffs and bangs.) Terrifying these roller coaster roads, I just shut my eyes. To Eressos, where Sappho is also said to be born – our book says it's the ground zero of dykes, but it seems the usual blokey scene, men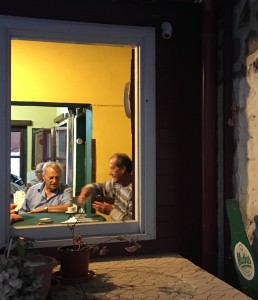 drinking and playing backgammon & cards in cafes. Bare, volcanic. (We give the fossilised trees a miss.) Far in the distance we see the beach of Antissa where Orpheus's head floated onto the sand. Solar panels send messages to Helios.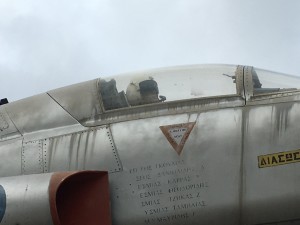 To the Monastery of St Michael – is that him in the fighter plane outside? He scours the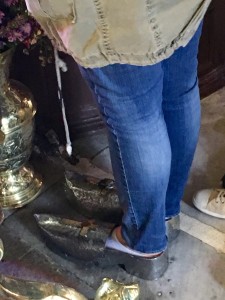 sky, keeping Turks at bay they say. He has massive wings, but inside are as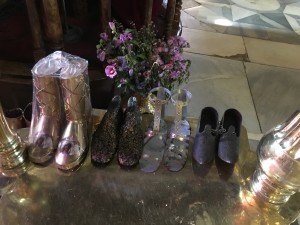 well a great many uncomfortable pairs of metal votive boots, including a giant pair which people try on, shutting eyes and praying. He stomps the place at night in these boots.  Pilgrims come, and there's a miraculous figure of his ugly face, of which you can buy a miniature facsimile.  He's also shown with a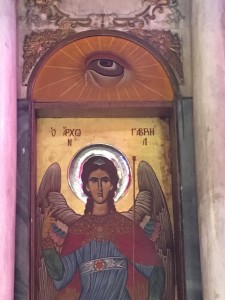 massive apototropaic evil eye above his head.
This side of Lesbos is green.
CHIOS
Ferries are like cross channel ferries, modern with souvenir key rings etc for sale.
Chios is where the Constantinidis – George Constantinidi plays golf with Bob, his forebears fled Chios during the Turkish massacre in 1822 – originate. Along the front we find an indifferent room.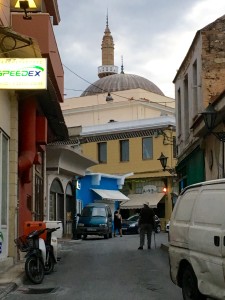 In the Byzantine museum (in former mosque, complete with minaret) there are paintings of the prophets etc and I realise how I dislike Christianity with these finger wagging men with massive beards, and meek virgin. (At least Daniel is a good looking youth). Copy of Delacroix's Massacre at Chios.   Custodian lends me key to palatial lavatories outside.
Can I walk up to the top of town and up the hilly cliffs to the pines? No. Go up past fancy modern houses but there is a valley dip and army depot before it is down to another valley and up again. Return past poorer houses, some with Fatima's hand knockers, and several derelict houses (was this the Turkish quarters before the great exchange?) In modern cathedral the cleaning woman tells me to take off my sunhat – is this a reaction to scarved muslim women? Certainly, I've never seen a Greek woman with a covered head but, in paintings, the virgin and female saints invariably are scarved. I walk out. (Only other church I've been told to take my hat off is Old Goa.) It's the women who keep the churches going, cleaning & polishing & sorting candles (sometimes a glimpse of squalor behind the iconostasis).
St Florian is patron saint of chimney sweeps.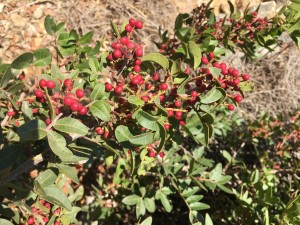 To the bus station and get a bus to Mesta, in the Mastichochoria – which is where mastic is grown. Mastic was craved by the Istanbul harems. It's a chewing gum formed from the resin of Pistacia lentiscus which at this time of year glistens like the tears they call it on the trunks of shrubby little trees. It grows supremely well on this red volcanic soil, nowhere else they say (Wikipedia says it grows all over the place).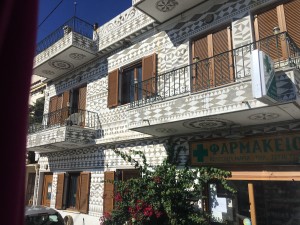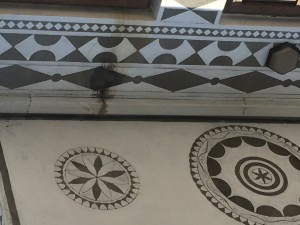 At Pyrgi the houses are decorated with geometric patterns (Islamic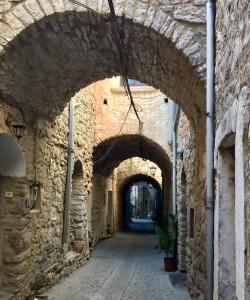 influence?), and beyond is Mesta, an inland fortified village. Here, labyrinthine lanes were created to confuse pirates who assailed the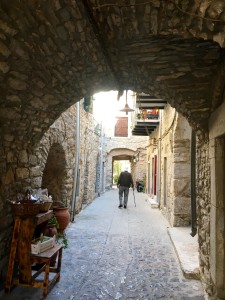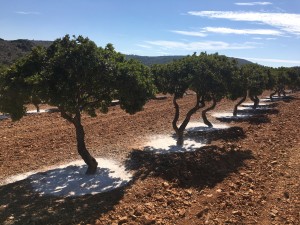 coast in search of mastic. No cars. A young man shows us a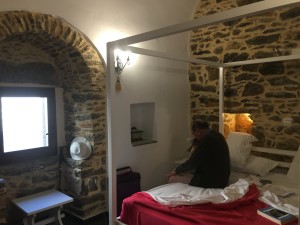 troglodytic room with walls nearly a yard thick, everything red, where we stay. We eat in the central square – everything happens here. The woman who runs the restaurant has a spastic son – people sit with him or wheel him round the twisty lanes.   He has an iPad and loudly chortles. When we leave the woman gives me a pot of mastic goo and thanks me, I'm not sure what for. (It sits in the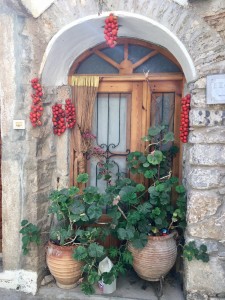 fridge here, with me wondering what to do with it.)   Courgette fritters, and butter bean casserole, vg.  Old people, the women in black, sit and chat.  Tomatoes dry by windows.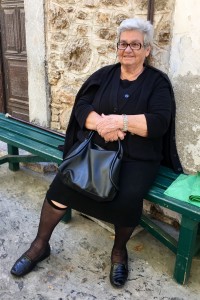 Try to walk along the mastic trail to Olympi, but a year ago a fire burnt the trees and along the terraces are black stumps – tho fresh growth springs from their base. Climb & cross rotting bridge and think, I should not be doing this. Later, I buy a 50g pack of mastic tears for 1.95 euros – it's a mix of rocky and soft textures which in the mouth becomes a chewy white paste. Yuck.  Walk in a mastic orchard, each tree carefully trimmed and surrounded by a ring of white powder – for the tears to fall onto.
Back by bus to the port, and the sybaritic comfort of the Chios Chandos hotel – large room, harbour view, balcony, pool.
Last day we get a bus, and B hands the driver a 50 euro note. This saintly man gets out, we watch him going to an office and procuring change, and climbs back, giving Bob four tickets and a heap of coins – all of which we should have done. Beyond windmills and below a mountain is Petrodeskalos where there was a temple to mother goddess Cybele. (For years scholars thought Petrodeskalos obviously meant this was where Homer, a Chios native, taught his disciples, but recent research has uncovered Cybele. Typical, seeing something as male rather than female (Apollo transmuted from earlier earth goddess at Delphi, ditto at Aegina). Tourist bus arrives below, out they come, climb the steps, snap the view and us (Bob bristles with objection), back to bus, and off. Now just the purr of surf on the shingle, the sough of pines.  We sit on the platform beside Cybele's altar. On the stone stub of her throne we can make out clawed feet and a bit of her torso, riven and polished by time. Cybele is still here. Below, modern devotees have balanced stones on each other as prostrations. Higher, there's a fountain built by Turks – the Koran says creating fountains builds merit with God. Local bus back using surplus ticket earlier provided.
Local restaurant staffed by cheery burly waiters – sailors surely. Very good, fresh from oven, tho as everywhere portions far too large.