GREEK ISLANDS – CYCLADES – OCTOBER 2021 – SANTORINI AND NAXOS
SANTORINI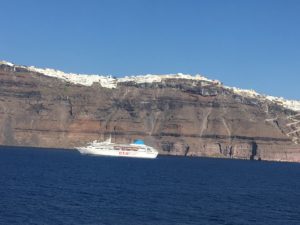 'Santorini is for the hoi polloi' says Kevin as he drives us to the airport. 'Mykonos is for gays.' We are late at Gatwick, our fault, and delayed even more by a jobsworth pulling out a phial of Dream Satin and admonishing me for not placing it in a plastic bag – this takes fifteen minutes, and then we rush through a chicane of unguents and perfumes and barely get to our Gate in time.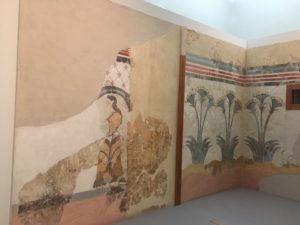 Flight, oh fine now, above the clouds, pure and beautiful, and the flare of red red red as the sun goes down, soaking us in last light. At Santorini, officials spot us with Bob limping at the back of the queue, and beckon us to the front – we are through. I feel tears. We are in Greece.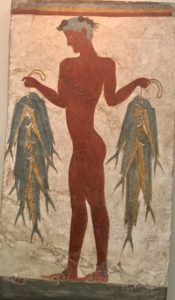 A taxi driver (oh the luxuries we indulge in old age!) greets us, and drives us to Thera where Maria waits in the street to guide us along sinuous paths through a mass of tiny boutique hotels each with its tiny turquoise pool to the Sweet Pop Hotel. Good room with kettle, but we must use bottled water because tap water is rather salty. Out for restaurant and eat sardines, so good we go there for almost every meal, father and daughter are solicitous. We are in Greece, yes.
The museum, yes this is what we have come for, with Minoan frescoes of 1500BC which survived under ash at Akroteri after the volcano blew up, and drowned some islands while creating others. Now there's a ring of islands and the deep round harbour, formerly the caldera. They painted elegant women, one with the breast of a suckling mother, in layered or draped skirts, a frieze of papyrus, crocus, an amazing fisherman with his mackerel – he's sinuous ginger brown, his head grey where it has been tonsured. Pots with swallows, how they loved swallows, and duck, fish and dolphins.
Later, at Athens archeological museum, we see more from Akroteri, frescoes of a rainbow mountain covered with red martagon lilies, Lilium chalcedonicum, and above swallows, swallows greeting and kissing in the air. Gasp worthy. Such a civilized vision of life compared with the later Mycenaean age intent on conquest, fighting, battles. A civilization with a feminine awareness of life and beauty.
Next day we take a bus to Akroteri, where the Minoan houses and frescoes were unearthed. But although worthwhile seeing the vineyards – Santorini is famed for its rose wine – it is too busy with buildings to be attractive – just worth it for the views of cliffs and sea. Inside Akroteri, the town overwhelmed by that 1500BC volcano, they have excavated and stabilised the place so we can wander round on walkways, but it's like any old bomb site, dusty, ashy and boring walls and rubble, like London after the blitz.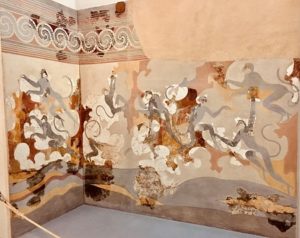 The main street of Thera is packed with tourists and shops of expensive bric a brac. Bored men stand beside their immaculate cars or quads in Rentacar showrooms hoping to find a punter. From our hotel we can see across the plain to the sea, but behind us over the ridge are the expensive hotels looking the other way, down the caldera with its multicoloured cliffs, to the sea. Cruise liners loll in the water. A sunset is viewed here as a daily miracle, and
people gather in open cafes and on ledges like seagulls – all feel primitive awe as it sinks, we are part of this moving universe. Sun worship the earliest religion of all?
You can go by zig zag steps to the old harbour below, taking a mule if you wish in the old style way, or you can use the funicular which I do after slipping on the steps.
Cubist is the word for these Cycladic buildings, white creating their shadows, they are pure sculpture. Blue the sea, the domes of churches and sky, white the buildings. The Greek flag has a cross and nine stripes of white and blue, which are the Muses.
Now, away from this mayhem to Naxos, where Dionysus came to rescue Ariadne after she was abandoned by Theseus. Ferry leaves from the New Port Athinios. Maria kisses us good bye. Bus station is chaos with blurry loudspeaker and few destinations listed. Ah, this is it. Grab seats while I look after the luggage shouts Bob. So I do, and the bus goes off, packed, without Bob and luggage but with me. At the port I find a restaurant on the front and wait nursing a beer, and eventually he arrives by taxi, having shared the cost with three Spaniards. One of them looks after him like a devoted son.
NAXOS, island of marble
How the ferry crew take care of Bob! Our luggage, our two little bags are stowed by a tall girl who smiles as if she means it, ah, the Greeks. Up we go by elevator to the lounge, and look back on Santorini, with Thera straddling its ridge.
At Naxos harbour, we are picked up by the first taxi driver we see – she has very firm ideas where we should stay, and shows us grim dumps – time is getting on, so eventually we go for a small, bare and dreary flat in a block called the Kerala Palace with a kitchenette and two double beds. In the morning, after breakfast in a bowery café, to the main square, where Bob sits with a coffee while I find the Hotel Asteria, bang on a golden beach with an ok room (stiff artificial flowers) and balcony wide and lovely – view of sea and Paros island. I pay 60 euros for a night tomorrow, and in due course show the outside to Bob. Muzak comes from the beach bar. 'Desperate!' he says. But when we arrive next morning, the Muzak can't be heard, and he loves it. All is fine as he sits with his iPad on the balcony overlooking tamarisk and the sea, the beach, bathers. The sound of surf, calls of little children. Warm
sand. Sea glitters, colours change. We have arrived.  The Asteria is blue and white, and the steps up to the back terrace of our room are white marble.
Naxos is laid back, no cruise liners here. A citadel at the top of the town, where the Venetian brigands lived for generations – they grabbed the island, but never bothered about the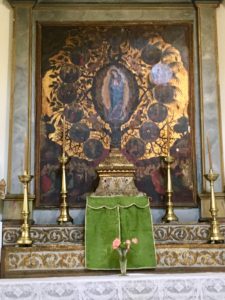 corsairs, and none of the locals cared when the tolerant Ottomans took it over and kept them at bay.  A great Jesuit church, Byzantine style, with Madonna and a rose bush.  A museum with again these Cycladic figures, female, flat, white, sometimes pregnant, c1700 BC.  Early gods are nearly always female, wherever they are. It's when the warlike Mycenaeans take over that male gods become dominant – as indeed they have stayed ever since. Soldiers, warfare on pots.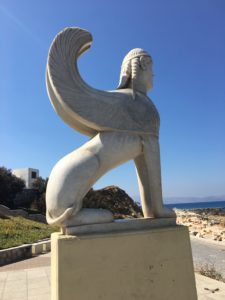 Facing the water is a copy of the Naxian sphinx. The original's at Delphi, a gift to Apollo from Naxos.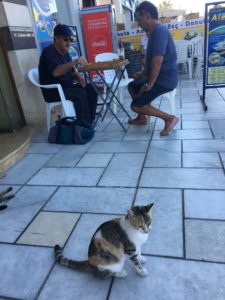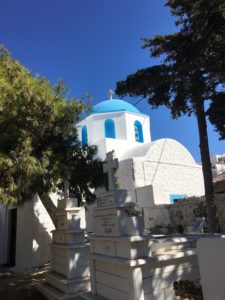 Herb pie. Beetroot salad with walnuts, beetroot, yoghurt, garlic and mayonnaise. Our regular restaurant Oasis, is closed for six months of the year, like most places.  Plenty of Germans here, and the main waitress is obviously German and may be married to the Greek proprietor.  Hotel Asteria shuts soon. Everyone is ecstatic at the prospect of a long holiday after working seven days a week – with verve and enthusiasm. They will see their friends again!
I take a bus tour, through a fertile valley with a temple to Demeter (her worship must have started in Neolithic times), and over to Apollonis on the other side, where in an ancient marble quarry a figure, now grey and riven, is still embedded – he's probably Dionysus, since he has a beard – left in situ after his head was accidentally split. We visit an outlet for Citron, the local digestif made from the leaves of a monstrous green citrus with peel an inch thick. This fruit was brought back by the soldiers of Alexander the Great, we are told, its first introduction to Europe. (Thought it was the Arabs, much later. Maybe, if true, the Arabs introduced the sweet orange). A potter, the last of his family. St Mamas, saint of orphans and shepherds.
A stop at the marble village of Apiranthos, nestled in the mountains, far from pirates on the coast. Scenic, and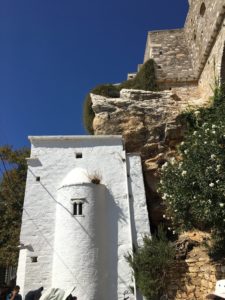 they live on us, tourists.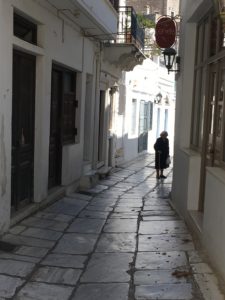 Only two storeys are allowed, we are told, and the only colours permitted are blue, green, brown and red. Guide drones on about numbers, and vainly tries to get everyone in a singalong.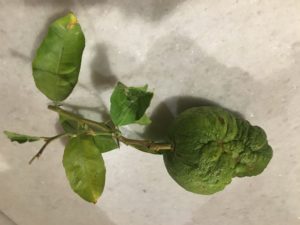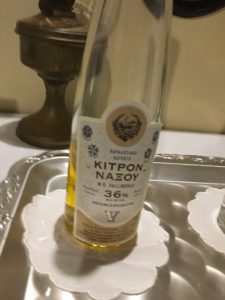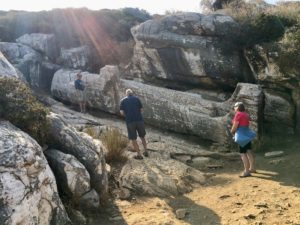 Some lower terraces bear olives and vines, but thousands more above lie falling and abandoned. As we drive over these rocky marbled hills, with a few working
quarries for marble and emery (hardest metal of all), I feel a peasant culture dying. In the villages are old people, old women in black. The young have dribbled off to Athens, Europe and America. Here they live on tourists, and the odd craft work bought by them. So many little churches in these islands, domed blue like heaven, virtually all locked when I try the doors. About a third are Catholic and two thirds Greek Orthodox, and the two, we are told, live in harmony.
Storm, ferries cancelled, streets flow with water. A wind surfer seems mad as he rides and falls and rises and falls in high Hokusai waves. Then at last, ferry Naxos to Mykonos, which is the only way to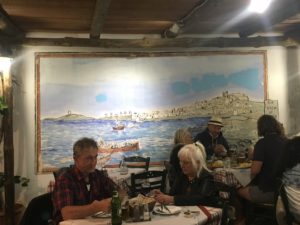 get to ancient sacred islands of Delos.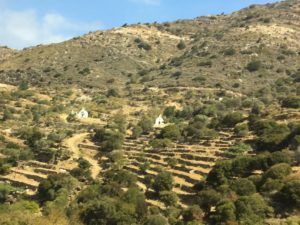 '