GREEK ISLANDS – CYCLADES – MYKONOS – OCTOBER 2018
MYKONOS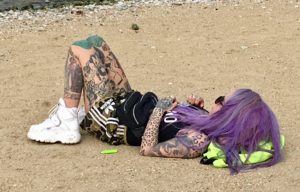 Mykonos, gay capital of the Cyclades. We arrive at the New Port, and a bus takes us to the outside of the traffic free Old Port. Slowly, we walk along, stopping for a drink en route, and find the Hotel Manto, very central and earlier booked on line. Small, boutiquey, and it is fun to sit at a restaurant on the harbour front and watch the beau monde go by. On these cobbles one beauty is wearing red suede stilettos as she flaunts along her handsome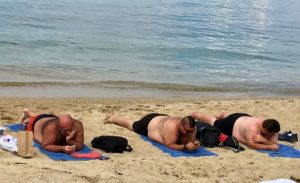 lover. Another decoratively tattooed lies on the adjacent beach, near three tubby men.
Manto, whose statue is in the square, gave her considerable wealth to the cause of freedom – getting rid of the Turks. She died penniless.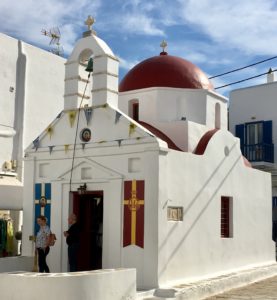 Picturesque is the word for Mykonos, no wonder it has been loved through the decades, but now it is crowded and self-conscious, and it's hard to move down the alleys after 10 in the morning with all the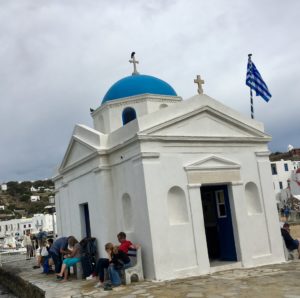 cruise line groups, Japanese, Chinese, American, European etc moving along following their guide who holds aloft a flag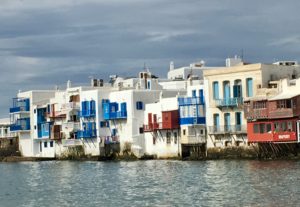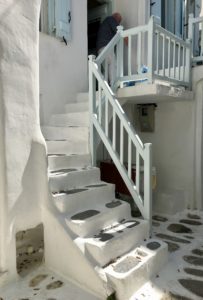 on a stick, leading them past jewellery shops, souvenir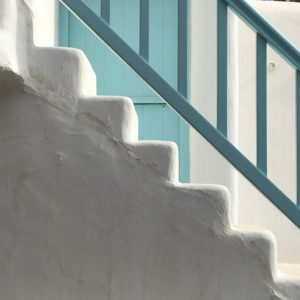 shops, all expensive.
But when the cruisers have back to their
liners, the little town resumes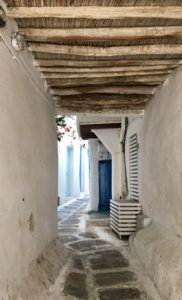 its beauty, with the red, white or blue domed churches, the white houses with curved corners as if shaped by a potter from plaster of paris, the white steps, white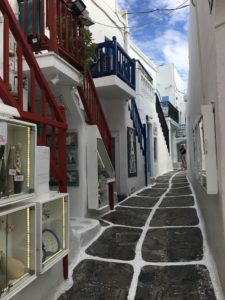 twisting alleys, the stepping stones outline in white mortar.  A cubist Ben Nicholson town.   Wall sculpture made from taps. St Nicholas church by the
harbour. Masses of churches.   St Lucy, patron saint of sight and light, carries her eyes – cut out at her martyrdom – on a plate. A cat sits at the Last Supper, waiting for scraps.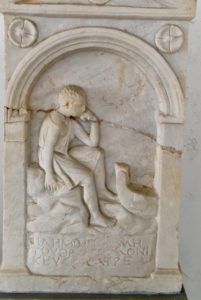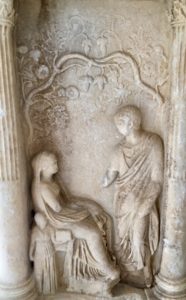 A good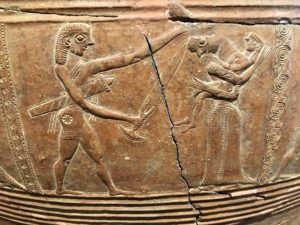 museum, I really enjoy these little island museums – few come here.  Marble stelae from Rheneia showing the deceased and a few mourning relatives, and one of a man who looks as if he's just arrived in the underworld and wistfully gazes, hand on chin, at the prow of Charon's boat. Also, a grisly pot showing the Trojan horse with windows in its side where the Greeks soldier are peeking, and a warrior with sword upraised about to kill a mother and child – & many more scenes of massacre.