GREEK ISLANDS – CYCLADES – DELOS – OCTOBER 2018
The sacred island of Delos, birthplace of Apollo and Artemis. Centre of the world, and after wandering through the sea the island was pinned where it now is by Neptune. No one could profane it by birth or death, for which
people had to go to the adjacent island of Rheneia. 'Oh how I wish I had listened to Whitfield lecturing on the Delian league' says Bob. (That was over sixty years ago)… Today no one is allowed to spend the night here – and the only way to visit is a day trip from Mykonos. Which we do. First time we go Bob stumbles and hurts his Achilles tendon, so I go alone – but he comes with me two days later. Second time I go early and meet up with him at the Delos café. He loves Delos. Although he's not feeling special, he still loves Greece and the islands.
Temples in ruins but as the boat approaches the sacred harbour we can imagine the town almost as it was with houses and temples, with Mount Cynthos behind.  I only manage to climb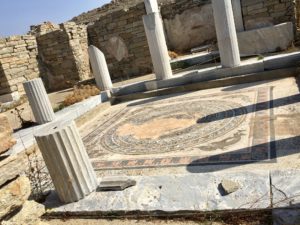 halfway up, it's my balance coming down those steep steps!  Stabilised houses are just walls but as we wander round we can see how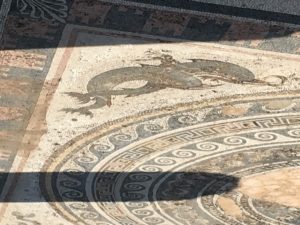 elegantly they lived, with their atriums and colonnades, their mosaics of Bacchus, tigers, dolphins, and cisterns dug for water storage. A man photographs me outside the Temple of Isis.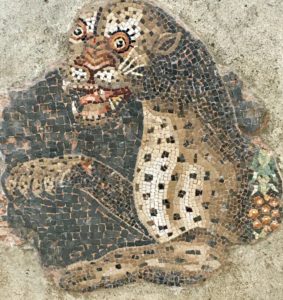 The great thing about the Romans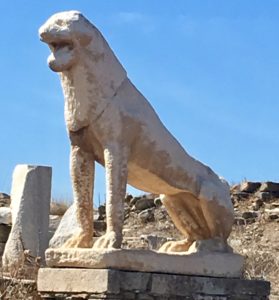 is that, unlike the Christians, they always admired, preserved and followed Greek culture, and so it is here. They came from all over the Med to worship and trade and buy slaves, it was the biggest slave market of all. Bob is amazed is by what is left of two phalli – gigantic balls and penises which must have reared ten feet in the sky – in the Stoivaeion near a theatre in honour of Dionysus, c300 BC.
There was no concept of heresy. All gods were valid. So true. Each is a manifestation of an individual vision.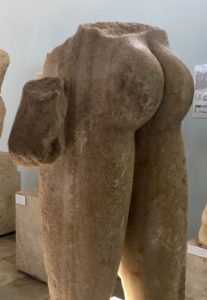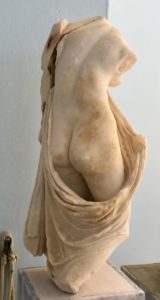 A row of stone lions. Good museum – Greeks were fond of bottoms – & surprisingly good café.