3. GREECE 2015 – DELPHI AND ATHENS AGAIN
22
Still raining, so nice proprietor of Mythos b & b drives us to bus centre to get next bus to Delphi. Long wait, but we have our ipads. Off through the mountains, and a change of buses and a wait at Amfissa. But we arrive! Rain has stopped for a few hours. Bus snakes up from Itea on the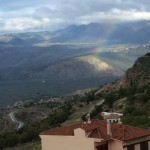 Gulf of Corinth to Delphi, and we head straight to the Hermes hotel, where we have stayed before. Room and balcony looking down on the gulf, the mountains, distant Itea and the soft grey green of the largest olive grove in Greece. So welcoming here.
23
B fell over coming back from restaurant in the rain last night – he hates rain and he did not have his stick or a rainproof jacket. But the sun shines and B stays put to recoup, and I decide to take the path to Itea, but get lost, and come back, and explore the temple of Athene pronaos.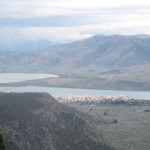 Opposite are mountain walls, dark, and birds fly past like gold flashes lit by the sun. The circle of this delicate tholos (= round). Ah, the song of silence once more. It must be partly that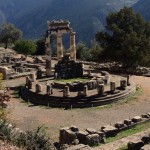 I am rather deaf, but it is a gift even so. No one here. Yellow sternbergia, cyclamen.
At the museum's gift shop near the town I buy three pottery plaques with paints for Fred, Max and George – Hercules for Fred the strong man, a fish chi-ro for Max the clever one, and a boat for George because it looks nice.
24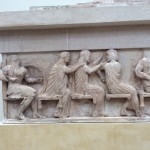 B ok today, and to museum. It is a great museum because has such cohesion -everything here was discovered on site and consists of gifts to the great Apollo, whose place Delphi is – so, the amazing Charioteer, and sculptures, and a sphinx, and a flautist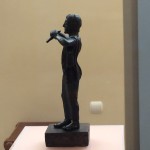 from all over the ancient world, from Rome, Persia, offerings were brought here. Then to the temples, and to the temple of Apollo where the priestess gave her prognostications via priests and the priests interpreted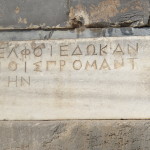 them. At the entrance of the temple is carved, as in ancient times, KNOW THYSELF, and NOTHING IN EXCESS, and a mysterious EPSILON which no one knows what it means. (As usual, I am niggled by the fact that before Apollo, the great earth goddess – Gaia – was worshipped here. Apollo overcame her).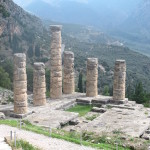 Above us rise the great walls of mount Parnassus, pink, where the muses live, you feel they are still here, you lift up your arms to them, and Apollo's crows black, sleek and glistening come and go in crowds – they are huge. Below in the valley is a group of crows, and swirling they circle and rise up and up on the thermals, they don't even have to flap their wings. A murder of crows? The ticket seller says crows signify very bad luck – ? I am reading Ted Hughes, and his crow is bedraggled, thieving wickedness. But all I see is sleek black beauty.
Explore town. Decent meal though Greek food … well …I'm sick of tomatoes stuffed with rice and moussaka
25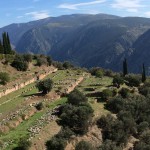 B wants to go to the tholos of Athene, so we walk there, slowly. I wonder about coming back here in the winter, living here for the winter, the mountains speckled with snow, with this mythic view below, with the tracks where the pilgrims came, from over the mountains, from their ships moored at Itea.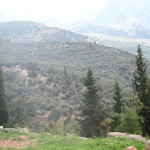 The muses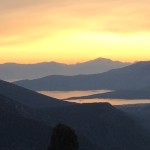 breathe down inspiration, you can feel them looking down these pink cliffs and caves, trailing their white hair.
26
Bus back to Athens, and via metro to Thisio, and late lunch. Much nicer room this time at the Jason Inn. But on the roof where we have supper in the dark it is cold, with view of Acropolis.
27 – lost a day somewhere along the line
28th
To Museum of Archeology. I feel totally inspired for one half an hour – my max for intensive communion – by these objects so ancient, they are the bedrock of western civilisation and the way we think.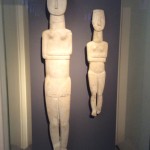 Ben Nicholson must have seen these figures, so pure and minimalist and 5000 years old,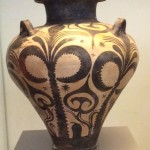 Picasso these jugs. Museum attendant on platform heels could be a hooker, and unaware of it.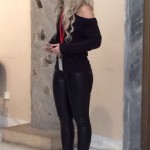 Gold mask of sinister Agamemnon,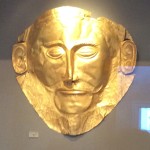 amazing boy on horse c150 BC.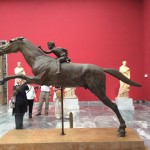 Head of dog. Outside children play and slide down the smooth side of the steps to the museum.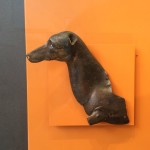 Oh hell, I can feel my cystitis coming on again! It is a national holiday (October 28th, when Greece joined the war against the Axis) so shops and chemists are shut. Ah, there one open. I go in & explain and the girl nods and understands. Take this course of antibiotics for four days, take this course of probiotics to boost your gut, and take two of these cranberry pills a day for the next six months and you will never be troubled by cystitis again. She repeats her spell. I don't really believe her. I hate antibiotics, they do the trick but become less effective with each bout, with a shorter duration between each attack, and as for the pink pills, they are heart shaped and girlie, and as for probiotics, well I've never been prescribed them by Alresford Surgery. Pa was a proper doctor, and I'm not into this alternative crap. But I want to believe her, she is like a witch with potions, and I pay nearly fifty euros for her magic.
The church at Monastiraki Square is open, B pushes me in but does not come himself. The scent of honey and herbal incense! The glistening icons. Christ! Dull gold floats around us, and the round candelabra. Woman kneels and rises 3 times, and crosses herself and kisses an icon on one side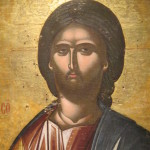 then repeats it on the other. I copy her and go outside, feeling glorious.
To the centre, and back to hotel, and supper.
29
Metro to airport, where I spend euros on 'Greek' Delight (they are in total denial over their Turkish past) and Marrons glaces and baklava and crystallised fruit. I pick up thr 'gold' charm of a tortoise – dropped by some rushed passenger on the ground. Seems fitting (remember than tortoise on the Acropolis?). It's on my desk now. Squashed but ok flight back on Aegean Airlines ministered to by elegant hostesses, their hair in buns. Met by Steve and driven home. Now at last, I can cut my nails with nail scissors.