DEREK JARMAN'S GARDEN AT DUNGENESS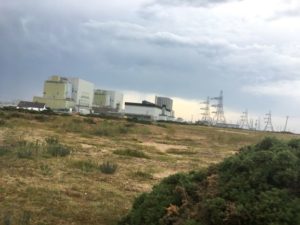 No one knows where Dungeness is. Bill thought it was near Aldeburgh and Rosie Sturgis in Wales. It's a high spur of shingle deposited by floods in Kent when a frozen North Sea thawed after the last Ice Age and flooding the vast plain of Doggerland pushed through the Channel.
Ann and I found we were both reading Derek Jarman's Journals, and had to visit his garden in the shingle of Dungeness.
Jarman started the garden when he was already dying of Aids but it took more than four years to kill him. He bought this black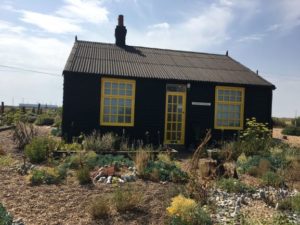 wooden fisherman's cottage, and among the surrounding shingle set about cultivating every wild plant in the area and introducing every other plant he thought might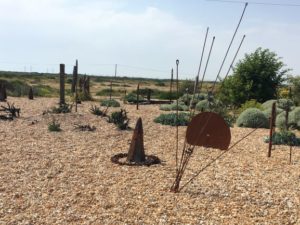 survive. There he was, creating circles and squares, henges and patterns from larger pebbles, and inserting objets trouves flung out of the sea, rods of rusty metal, rusty chains and saw discs and anchors, whatever caught his magpie eyes, into the patch of stones around his yellow black shack.
Ann and I hate driving, and so we caught a train to Folkstone, and then a taxi to Hythe where we caught the New Romney, Hythe and Dymchurch railway, which chugged us in a tiny carriage pulled by a toy steam engine beside seaside houses and lonely fields to the miles of shingle surrounding Dungeness with its power station, pylons and lighthouse. A feeling of huge emptiness, just black huts and the shingle, covered with bugloss and valerian and sea kale all in flower. Fish bait for sale. We walked up the road, and there, it could only be Jarman's garden. We had arrived.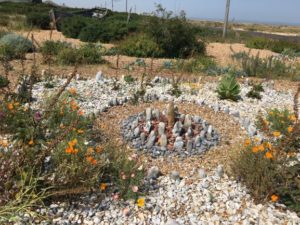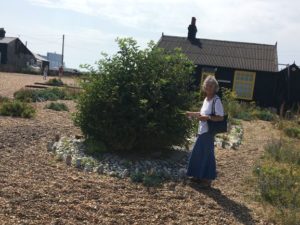 This garden has a strange beauty. It's the way it echoes the industrial wilderness beyond, with the stone spread with pylons, wires and the soon to be obsolete Dungeness power station.   Wild flowers and Californian poppies and perennial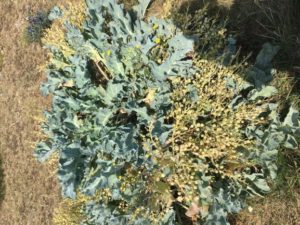 sweet peas swarmed over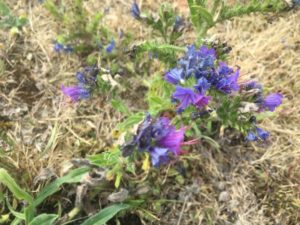 the stones. Large flints rounded by the sea have been erected into stone henges and patterned plant containers.   Acolytes still cares for it.  Just the sound of wind and the occasional car. Huge sky.
In the steps of Jarman we went to the Pilot Inn – fish and chips and a pint of cider. It was 3.30pm. Distantly across the water we could see the white cliffs of Dover and often the barmaid said you can see France.
We must go back, catch the last train! We caught it to New Romney where it terminated, and as our phones were out of juice we asked Jane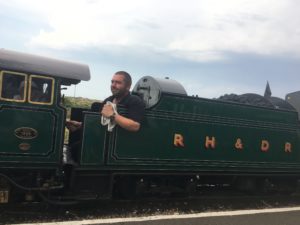 at the ticket office/shop to order us a taxi. She did, and the taxi service wanted pre-paying £25 on a credit card, and said they's be with us within half an hour. They weren't. Jane brought us chairs, and kept the shop open after closing hour. Outside it rained. Jane rang the taxi service again, and they said all the taxis were still busy. The manager arrived, and the upshot was he drove us to Ashford station where there were masses of trains – he said he lived near there. He rang the taxi service, and said if they did not reimburse the credit card he would never send them another customer. Jane and the manager were our angels that day, and all we could do to repay was give a five star report to Trip Adviser. The kindness of people!
From Ashford we got to London, and since it had been the hottest day of the year – perfect though at Dungeness – train lines were melting and Ann got to Ely at nearly midnight and me to Alton at 11.15. But that's another story.