ATHENS – OCTOBER 2018
Greece – the islands, the churches, Athens, the air, the little lanes creeping up the green sides of the Acropolis.
ATHENS
In the isle of Tinos, Bob is  feeling unwell, he thinks he may have appendicitis. (When we get home, they say it's gallstones, but it isn't and the whole thing fades away. I think he feels he can do more than he's up to, he gets so excited by the thought of all these places, Delos etc). So, I say we'd better skip any idea of Andros, and get home. I buy ferry tickets to Piraeus, and from there we get a taxi to Athens and the Jason Inn, which has no room, but
sends us to the Adrian which after our basic island hotels is luxury – we can see the Acropolis from our room and the Erechtheum lit up, and have breakfast on the roof. Athens, how I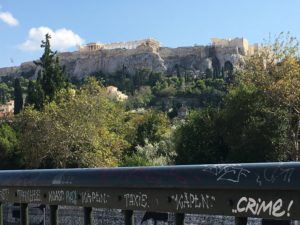 love it.
Set to on the iPad and get us a BA flight back, and arrange for Kevin to meet us at Heathrow.
Athens, stately buildings crumble, with planks and netting enclosing upper floors to stop
broken balconies, lumps of plaster and suspended
window frames crashing to the pavements.  Graffiti galore.  Migrants hang lines of washing on railings by the Agora. One gives me a black and white braided bracelet, ties it on, tells me of concert in Monasteri square tonight, you will come, won't you he says. I give him some euros.
To the archaeological museum, but all is shut – the staff object to 'privatisation', and say the government is selling off their treasures. The government of course says not. We have a coffee, and find it has now opened – again, that gold mask of
'Agamemnon', and now, further frescos from Santorini – lilies, deer and boxing boys.  The pottery – the simple things are best.  Sexy torso in negligee, minus penis.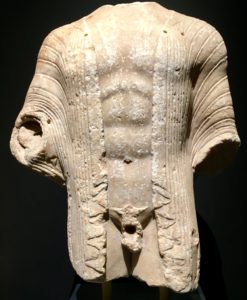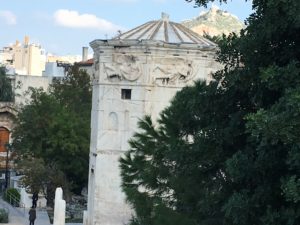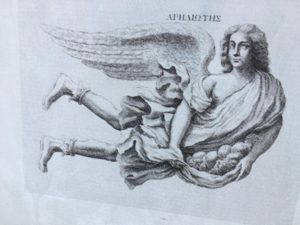 Off to see again the octagonal temple of the Winds in the Roman Agora, (= marketplace). It had sun dials, and a water clock activated by a stream from the Acropolis, and along its sides the Wind Gods still fly:
Boreas north. He holds a conch, which symbolises his whistling sound.
Kaikas north east, is bearded with a shield full of hailstones.
Euros east. No symbol.
Apelioes south east, brings rain, and fruit.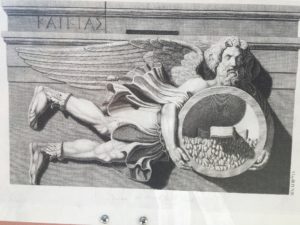 Notus south wind, He is a desiccating hot wind, destroying crops.
Lips south west, holds the stern of a ship.
Zephyrus west, is welcome spring, unbearded, with a basket of flowers.
Skiron north west, the bringer of winter. He holds a cauldron upside down.
These winds are not just daily phenomena – each has a different soul and character.
Athens airport. A busy airport. Security man examines the contents of my case. He doesn't fuss about the unwrapped Dream Satin, and hands the case back with a smile.
Kevin meets us at Gatwick.