Astley Castle -The Best Landmark Property of All
Our first Landmark holiday was at Ascog on the Isle of Bute, when Dexter was four months old – now he is nineteen.  With Dexter, Bob and me, Bill and Margot with Geordie three years later, Ann who was at school with me in the 50s and Mike, and others from time to time, we have been to a Landmark property almost every year since.  Margot says it's how she's got to know the countryside.
Every Landmark whether castle, farmhouse, townhouse, stable or mansion is a dilapidated historic property renovated by the Landmark Trust and then let for holidays.   Without exception, each is superb, and superior to the National Trust 'cottages' which are similarly let.  There's no Wi-Fi, and this year no phone signals either.  We have stayed in Pugin's creepy house at Ramsgate, at Boswell's classy mansion in Ayrshire, at Saddell House by the sea in the Mull of Kintyre, at Silverton Stables in Devon, in Suffolk, Somerset, Shropshire, oh everywhere.
But this year at Astley Castle in Warwickshire was the best.   Home of Lady Jane Gray, later used as a house and hotel, Astley Castle was subsequently burnt and pillaged of any architectural features.  By the time Landmark took possession, it was a wreck.  What Landmark have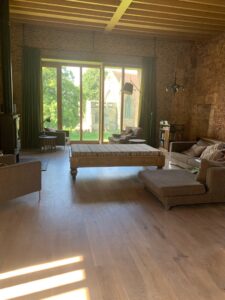 done is miraculous and won the Stirling Architectural Prize.  Within the ancient shell, and incorporating surviving walls, they have created a modern dwelling, with downstairs bedrooms and three bathrooms for eight, and upstairs a huge and beautiful room which is kitchen, dining room and sitting room combined, with floor to ceiling windows.  Within this chic modernity, you look via burnt ruined windows along to cattle and a great waterlily lake, across to trees, or over to Astley church, known by George Eliot.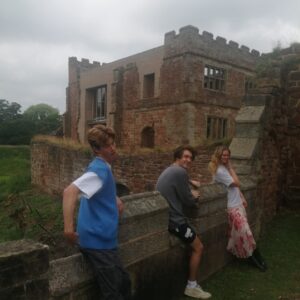 You park beside old stables, take a wheelbarrow for your luggage and  trundle to the castle under a gateway over a moat, and though an open roofed atrium – with table and chairs for a meal if you feel like it – to the front door.  There's a lift, rather creaky, as well as stairs to get your food upstairs.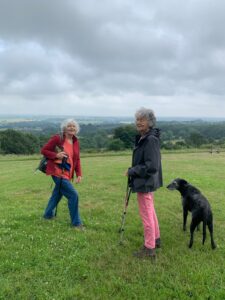 You arrive and say Wow.  You feel you are going to fall from a window.  There's a tray set for cups of tea.
We were without Mike, who died last spring.  Dexter brought beautiful Charlotte, who one evening baked walnuts in salt and maple syrup to eat with our drinks.  We took turns cooking in the evening.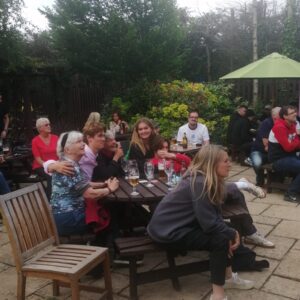 The nearest shopping is at Nuneaton, which is a dump, and nearby villages are … what can I say … unbeautiful.  But the Euro cup was on, so Bill and Margot twice booked us into a pub, and even I who don't even watch Wimbledon came and drank and cheered and shouted with everyone else. Bob stayed at the castle with Kidsky, Ann's dog.
The young made it to Warwick Castle, which they loved.  Some beautiful walks.
Bill, Geordie and Charlotte swam in the lake among the birds and waterlilies.  Almost every day we had to visit the  Astley Bookshop two miles away, a warren of sheds around a courtyard for coffee, tea and cake.  We came home loaded.
Bill wrote an article about Astley Castle and the Landmark Trust for the Daily Mail, inspired by a ghost seen while playing Hide and Seek.  It was the spookiest and most glorious Landmark we have been to.