3. ISTANBUL OCTOBER 2016
ISTANBUL
Taxi through takes us to the Bus Station, as always outside the dusty city.  Coach takes us to Istanbul, over valleys, winding over mountains and diving under them, and we are regularly given drinks and biscuits, and have a longer stop at a large station for us to have a bite – though so many buses are there, and being nervous of missing ours, we don't.  Decide that public lavatories with ceramic feet are preferable to ones with piss wet seats.
Along this spanking new road, over a narrow bit of the Sea of Marmara, and more urban now – new settlements with plenty of mosques (imagine new housing estates in England building lots of churches…) with their pencil minarets and it's getting a bit dreary, the place priced like hedgehogs.  (Then I think vast new urban settlements they need religion to counteract the reductive myopia of science, psychoanalysis and modern physics etc – rich and useful but eventually limiting the spirit, conceding nothing beyond themselves.  We need to see beyond.)
The bus stops and nearly everyone gets out, no no says the conductor to us, we have not arrived.  So on the bus goes, and over the Bosporus by a new bridge alongside the Black Sea and up and down vast wooded hills – where are we off to, have we missed Istanbul? – and then when its getting late among clogged roads we get to a bus station but the driver can't find any space to park.  Eventually, dark, and we get off but where are taxis?  Find one swirling around, price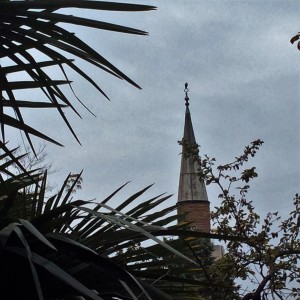 agreed, and he drives madly along these streets packed with stationary traffic – he overtakes a long row of cars and toots non stop – pedestrians run and oncoming traffic cowers into roadside we slide past, terrified.  Suleiman area, and yes, here is Hotel Empress Zoe, yes, they have a room for us which next day we change for one with a balcony overlooking the garden with palms and shrubs and a miniature pomegranate in flower and fruit, and a ruined haman with bubble windows in its dome, all that remains of the terraces of Justinian's palace which stretch under here and all adjacent buildings.  Zoe was a feisty empress with many husbands.  I would go back to this hotel.
Breakfast in the garden.  Remove a lovely grey cat from a chair to sit down.  Cats are everywhere, i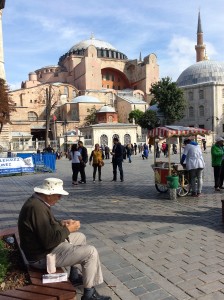 n Turkey.  We can see a minaret with a bird on the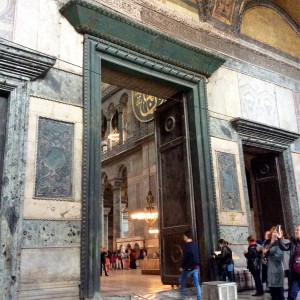 omega of the pointed cone.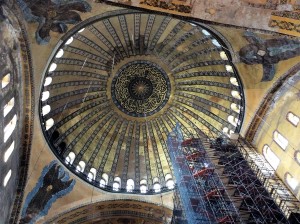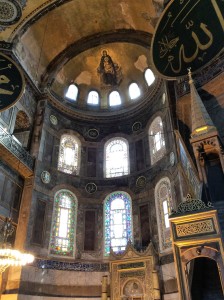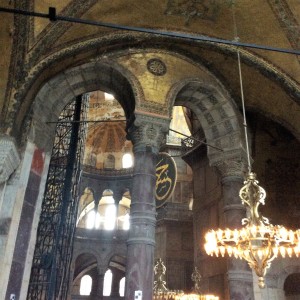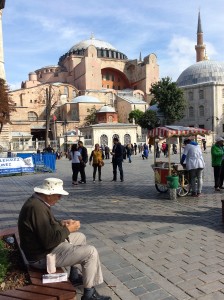 To Hagia Sophia, where else, the most ancient cathedral of all.   Built by Emperor Justinian in 537 AD.  Outside she's an old woman, dignified, obese, propped by antique buttresses otherwise she'd collapse, but inside!  I have been here before, but it is still exciting to pass through the first door then a larger door then the main door – the same stern massive door, metal about a foot thick, that only the emperor and his entourage could pass through – and enter this gold haze where the dome hangs in space above and light quivers with motes through forty windows circling the base.  We look up – the four angel cover pendentives, descend into pillars, forming arches which swell out to a half dome over the east end with Christ and Mother in gold mosaic, and to the north and south arches with windows, arcades and galleries.  Half domes produce small domes or domes or arcades or windowed walls. So vast, and we are ants below.
In due course we climb up to the gallery along the wide spiralling rough paved walkway, where the empress rode her white palfrey (surely!) up, and here there are mosaics, a glorious one of Christ – with the Virgin and St John the Baptist either side –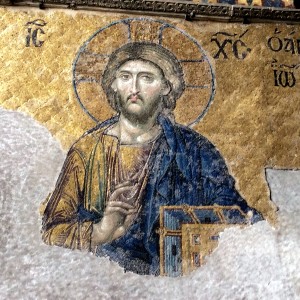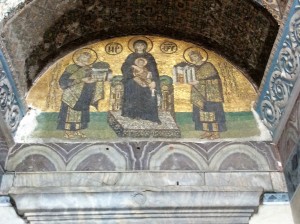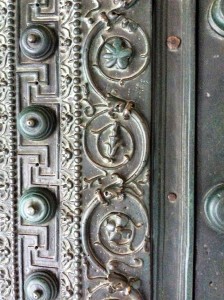 which is the best of the lot, and again with emperors and empresses – including our Zoe – either side.  Stern, dignified, unreal, hieratic, how I love the stiff formality of Byzantine art, its remoteness, its acknowledgement of another state, another world beyond, compared with the jolly reality of Renaissance Christianity which instead of elevating seems bring all that's holy down to our level (I suppose that's what it means to, God made man, but so often any sense of sanctity seeps away …).  Over the door is Constantine giving a model of Constantinople and Justinian one of Hagia Sophia to Mary Mother of God, and I am reminded of Greek wayside shrines like little church models.  These mosaics with their uneven surface glitter from different angles as we approach, making them move.  A strange marble door carved in a screen.
We pass the 'Beautiful Door', metal with flowers I run my fingers over, which comes from a temple of 200 BC.  To be able to touch it.  We sit outside and Bob buys hot chestnuts, bigger and better than ones at home.
Another day to the Hippodrome, the race course, with charioteers – like the charioteer at Delphi – and yoked horses – this is where the stolen ones in St Marks, Venice come from.   Beneath an Egyptian obelisk the emperor and empress look on, beside rails, and on another plaque hand wreathes to the winners.    Blue Mosque, which looks best from outside, with its bubbling domes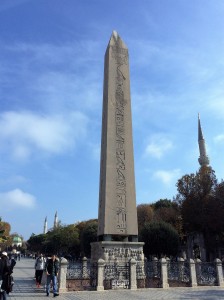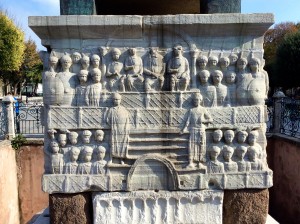 and minarets, a perfect marriage of curves and arrows.  Inside, modern glass, and Iznik I expect tiles.  Having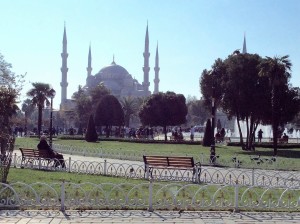 been in Sophia, Bob is rude.  Before we enter, notices tell us what to wear, and a load of scarves and sarongs hang at the entrance door for women to drape themselves in.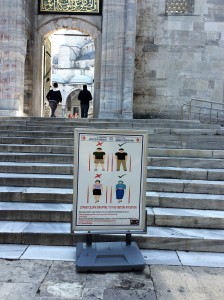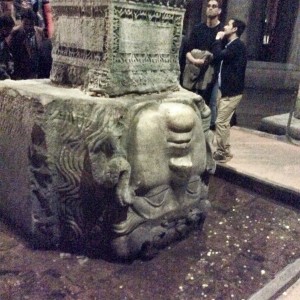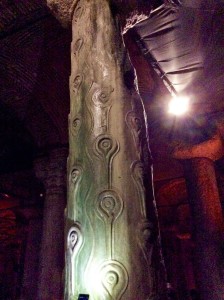 Down into the Basilica Cistern, an underground cathedral where we walk along paths over water, in darkness, through a forest of columns growing from water.  Siren voices sing, faintly.  The base of one column is a Medusa face on her side, and another she is upside down.  (Repudiation of paganism?)  A column is carved in tears, some say the tears of slaves who laboured here.
I love being at the Empress Zoe, and hearing the muezzin.  Sometimes I have heard cracked caterwauling, but these are opera singers with long high pitched calls of longing.   We hear them in darkness before sunrise, the Salat al-far, when there is a faint lightening of the sky, we hear them at midday just after the sun has passed its zenith, we hear them late afternoon, and we hear the Salat al-maghrib, after sunset.  These tenor voices, sometimes a bass, call from the minarets and sing, often on a long single breath, calling to each others, often in counter song, and sometimes when one has finished another takes the prayer into the distance, like forest birds at the call of dawn.  Life with these continual reminders of God's presence, like Angelus bells for prayer at matins, noon and vespers.  A pause in the mundane, a connection to the whole, God, whatever upholds us all.  Life as a dance orchestrated by the sun, the moon, the seasons.  (This is what gardening does too, keeps us connected the rhythm of the whole, of the year, of life and death.)  At the hippodrome archangels suddenly started singing from on high, at midday as we drank tea.
Although they are charming to me, personally, and I like the men, personally, I find Muslim misogyny irksome, things like the tiny space at the back of mosques allocated for women's prayers, or the fact they have no function in the mosque.  Publicly, they are best unseen.  At Selçuk in the old mosque there was a fountain at the centre of a garden for the chaps, with seats and taps, but the women had to make do with an old tent and bucket round the corner.  (At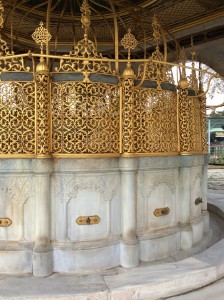 Aghia Sophia there is a splendid gold fountain – in fact dry Islam specializes in wonderful fountains.)  In restaurants there are rarely women.  We are never served by them, though sometimes they can be glimpsed through a door, washing up.  Of course all religions denigrate women, mere breeders and feeders, but Islam ….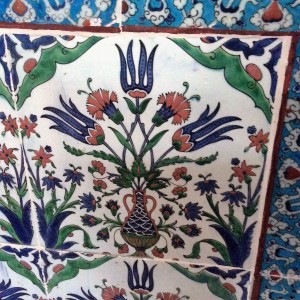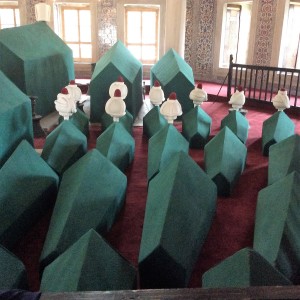 Beside the Hagia Sophia are mini-mosques with stunning Iznik tiles inside (if the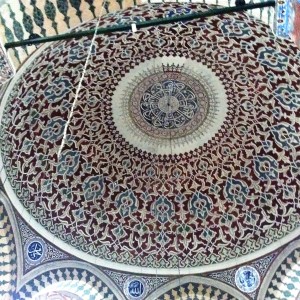 English like roses, the Turks go for tulips, beautiful blue slender tulips) and domes, which are resting places for the sultans and their families.  But, the story is total horror, for here is Murad II with the former consorts he murdered, together with their sons and daughters (I presume daughters because some of these tiny tombs covered with green cloth are have turbans, and others not), to get rid of any rival to his throne.  (How to choose who should lead?  Birth, primogeniture, democracy (I write when Trump has just become president of the USA, choice of old ruler, or murder by the one who has seized power?).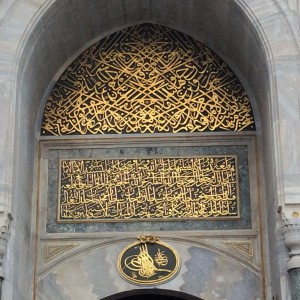 View of sea.  He loved that.  Writing over gateway like a stunning Jackson Pollock scribble (I know it's all from the Koran or whatever).
Last day we walk by the Sea of Marmara, round the base of Topkapi and along the Golden Horn.  Men fish.  Tankers head for the Bosphorus and the Black Sea.  Here is the Fred Olsen liner BOUDICCA moored in a grotty area.  A disconsolate couple sit on a wall.  We meet more passengers returning to their spas, bars, cabins and golf nets, and they recognise us, same age, type, clothes, and cheerily greet us.
At the Station we have tea outside the Orient Express Restaurant, empty and immaculate, superior waiters, walls lined with posters and stills from the Agatha Christie murder mystery.  See if there's a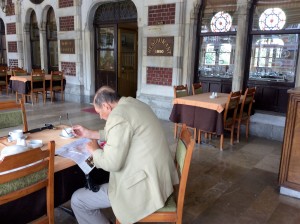 train to Vienna, says Bob hopefully.  I ask at the International Tickets office.  No, they only get as far as Sofia, and Bucharest – 2nd class, and arriving before dawn.  We are too old for that, I think thankfully.  We take a tram back, and the woman in the tourist office comes out to guide me through the stages of getting a ticket.  Goodbye lady, she says.  I love these people.
We have not been to the Chora church, and more, but …!
Last evening, at the same restaurant outside the Empress Zoe.   We eat Testi Kebab – meat cooked for hours in a slim necked crock with an incised line round its belly.  The waiter wraps the narrow mouth with a leather cloth which he screws tightly round, and then, bang bang bang, he cracks the crock open on the table.  Pure theatre.  He displays its two halves, the meat now neatly nestled in the lower half.  He pours it into a dish.  Delicious.  The bottom half now sits in my greenhouse, useful for something or other.  As we talk, he says, We are Turkish and European, we are not Arab.  I remark that on this visit more women are covered, but he says no, as does the man where we got our air tickets home (how he hates Erdogan), while Lara at the Empress Zoe says being covered is mere fashion.  Reliant on the tourist trade, the last thing they need is creeping Islamicism.
Cats sit in shop windows.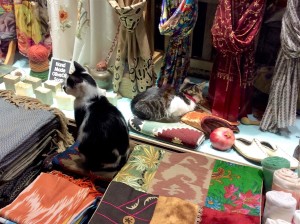 I buy a lamp made from a dried gourd in with a swirling pattern of red and white glass beads.  Now home, it fits the bulb in the downstairs lavatory.  Bob says it makes the place look like a brothel, but in fact it's wonky, slightly askew, and beautiful.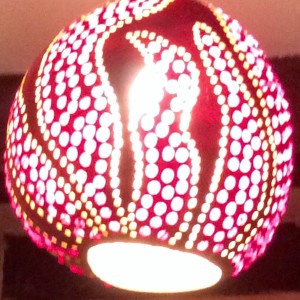 Turkey, I love its otherness.
.